Tools & Materials
iQ228 Cyclone Dry-Cut Tile Saw
Consider opting for this smaller saw when cutting normal-sized tile for a shower or simple backsplash.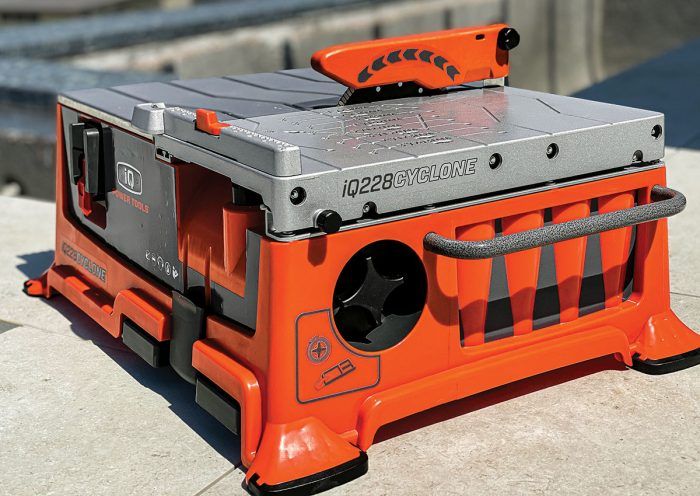 I'm not a full-time tilesetter, but I tile often enough to justify owning two tile saws. My main saw is a DeWalt D2400 wet saw, which is great for larger projects. However, sometimes I don't need a large saw, like when I'm cutting normal-sized tile for a shower or a simple backsplash. This is where the iQ228 Cyclone shines. It's a 7-in. dry-cut saw that I bought several months ago, and I find myself using it more and more. The saw has a HEPA filter and dust collection that works so well that I can set it up inside a client's living room. In addition, I no longer need to find a warm space to set up a messy wet saw during freezing temperatures. Living in northern Minnesota, I appreciate that feature.
I have cut some bigger tile on the saw without any problems; the manufacturer claims it will rip 18-in. material using its sliding miter table or 24 in. with the miter table locked. Cuts are almost as fast as with my wet saw; though you do get a little more chipping of the cut edge, the chips are easily cleaned up with a polishing stone. There is a miter gauge on the miter table with factory presets at 90°, 45°, and 22.5°, and the rip fence can be microadjusted from 0 in. to 8 in. One drawback is that the blade doesn't tilt for bevel cuts, so you'll need to do bevels with another tool. Like any tile saw, this saw is loud, making hearing protection a must. So far, this little tile saw has done everything I've asked of it. In fact, I like it so much, I'm considering purchasing its bigger sibling, the 10-in. iQTS244, to replace my wet saw.
–Randy Williams, home energy auditor and contractor in Grand Rapids, Minn.
From Fine Homebuilding #305
---
RELATED LINKS
Previous:
DeWalt D24000 Wet Saw
Next:
Trowels and Other Essential Tile Tools