Plane Doors More Easily with a Shopmade Jig
Scott Gibson shares a tip to keep doors and other big workpieces secure and level.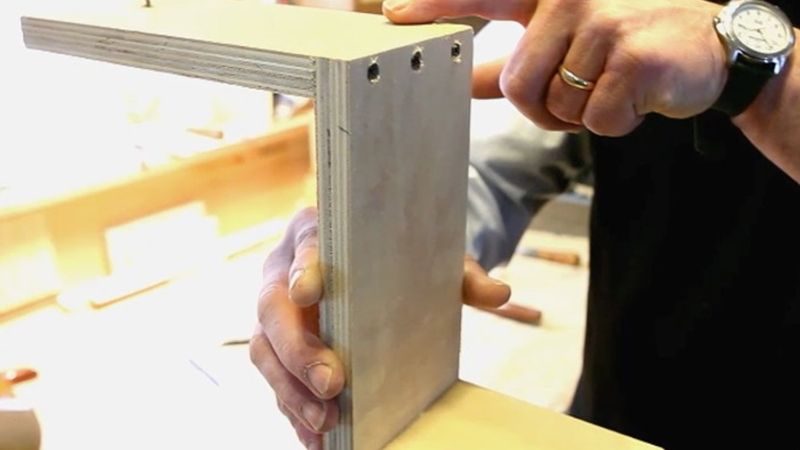 If you don't have a bench with a fancy support fixture, you could prop up the end of a large workpiece with a paint can to keep it level, but there's a better way.
Build A Jig Out Of Scraps
Scott Gibson of East Waterboro, Maine, uses his a bench vise to hold one end of any door he's working on, and an improvised dog leg to hold up the other end.
All You Need Is 3 (Or 4) Pieces Of Wood, Plus A Few Screws
Scott creates a ledge that consists of three pieces of plywood: one that goes over the top of the bench, a vertical piece the width of the side of the door, and a little shelf that the door can sit on. For heavier projects, a gusset at the bottom of the ledge adds stability.
Scott sizes the vertical part of the jig so the door is at a comfortable working height just above his bench. He hangs the top part of the jig over his workbench where it will best support the end of the door and screws it into the surface to keep it secure.
Because these jigs are quickly made out of cast-off scraps, they don't need to be adjustable-just make a new one or cut an existing one to size for your next project.
Watch more video tips:
Keep Your Truck Tailgate Clear With a Simple Gravel Shield
A How To Hang Drain Lines So They Stay Straight And Secure
Roll Compound On Your Drywall Seams For Faster, Easier Taping
Previous:
A Door Hanger's Jigs
Next:
How to Build a Simple Door Buck