Make Your Own Shim Gauge
This handy homemade tool takes the guesswork out of shimming doors and windows.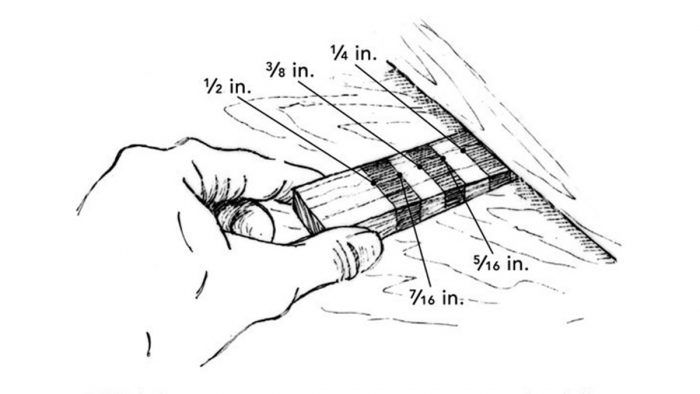 In home building, square, level, and plumb are admirable goals, but we sometimes fall a little short of the ideal. As a consequence, we turn to shims. They are vital for adjusting the fit of prehung doors, banks of cabinets, and custom built-ins, or for just about any other finish-carpentry task. Traditional tapered shims are nice because they can be adjusted incrementally to ensure a perfectly plumb or level installation. To me, though, this benefit is also their downfall. Because the face of the shim is tapered, the object I'm adjusting ultimately is resting on only a sliver of the shim, rather than bearing on its full surface.
To remedy this problem, I filched an old stairbuilder's trick by making a gauge to measure the size of the gap I'm trying to fill. As shown in the drawing, I cut a scrap of wood into the shape of a thick shim. Then I marked the points on the shim where it diminished in size by 1/16 in. with numbers and contrasting bands of color so that they are identified easily.
Now I can slide my shim gauge between a door jamb and a king stud until the prehung unit is plumb, look at the depth indicated on the gauge, and rip a flat-face piece of stock to the exact thickness I need.
Justin Fink, Glastonbury, CT
Edited and Illustrated by Charles Miller
From Fine Homebuilding #185
Previous:
Shop-Made Hinge-Mortising Jig
Next:
Another Hinge-Mortising Template