How-To
Is Your Old Wiring Safe?
Inspect the electrical panel and exposed wiring throughout your house to identify safety risks, fire hazards, and upgrade options.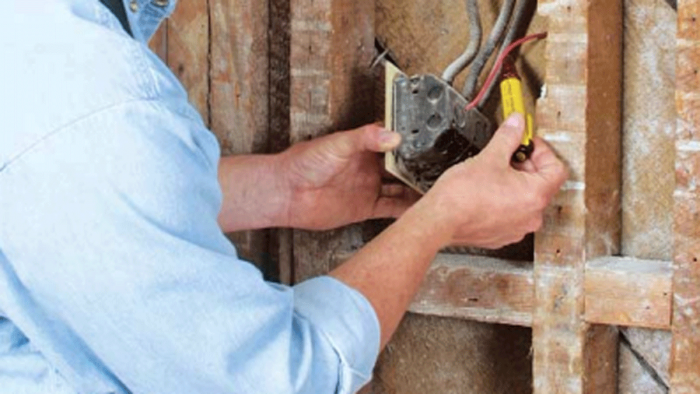 Synopsis: Licensed electrician Clifford A. Popejoy explains how you can tell if the wiring in your older home is safe. Detail photographs show the telltale signs that something unsafe lurks behind the covers of your switches, outlets, and electrical panel. A sidebar dispels three common myths about old wiring, and a timeline reveals how wiring has changed since 1979.
---
Some materials used in old houses are better than their modern counterparts, like three-coat plaster versus drywall. When it comes to electrical wiring, though, older does not mean better. Electrical materials and safety devices have improved considerably over the past century.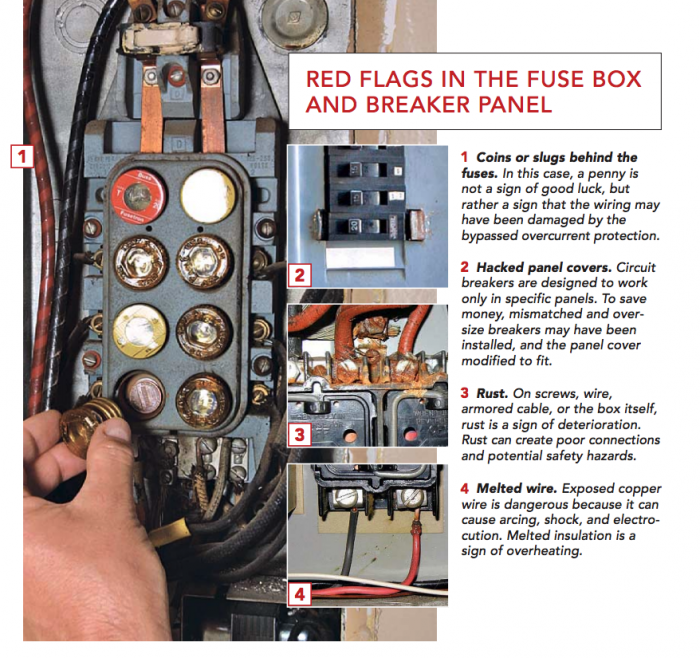 Is old wiring safe? It may be. Or it may present a shock, electrocution, or fire hazard due to deterioration from age, poorly executed modifications, or lack of capacity to meet modern power demands. Older wiring that's in good shape, however, can continue to serve, and selective upgrades can be used to meet today's needs.
A visual inspection of the panel and exposed wiring is the first step in evaluating an electrical system. Although I can't possibly describe everything that could go wrong with old wiring and how to fix it, I can describe some of the signs of an electrical system that needs repair or replacement.
Get to know your old wiring
When electrical wiring first was installed in new homes, the wires were run on a series of porcelain knobs and tubes. In a knob-and-tube system, the splices were soldered and wrapped in electrical tape. Junction boxes, if there were any, were small.
Armored cable, or BX, also was used in early electrical systems. Originally designed to protect the wires inside, the armor also acted as the grounding conductor in later versions of the cable.
Loomex, a predecessor of the nonmetallic (NM) sheathed cable used today, became available in the late 1920s. Nonmetallic cable first had only two wires with a tar-soaked cotton jacket. Later, a grounding wire and plastic sheathing were added. The insulation on the wires was made more heat resistant in 1984. This cable, used widely today, is labeled NM-B.
When current travels through a wire, the friction creates heat that can damage the wire's insulation. Consequently, all wiring is protected by fuses or circuit breakers. In early electrical systems — 5-, 20-, 25-, and 30-amp — Edison fuses provided this protection.
The second generation of over-current protection is the circuit breaker. A circuit breaker is a switch that senses when there's too much current and opens, interrupting the circuit. The advantage of breakers is that they can be reset after the problem has been fixed. If a fuse melts, it has to be replaced. When I inspect old wiring, I begin at the fuse box or breaker panel…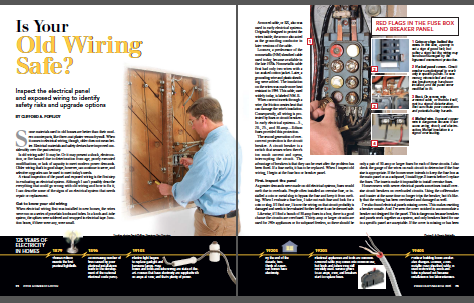 For more photos and details, click the View PDF button below to read the entire article.
From Fine Homebuilding #169
View PDF
Previous:
9 Common Wiring Mistakes and Code Violations
Next:
4 Worry-Free Wiring Repairs