How-To
Tools and Materials for Outdoor Wiring
Aside from something to dig with, most of the electrical tools you'll need for outdoor work are the same as those you'd use inside, but outdoor receptacles and circuits have some specific requirements.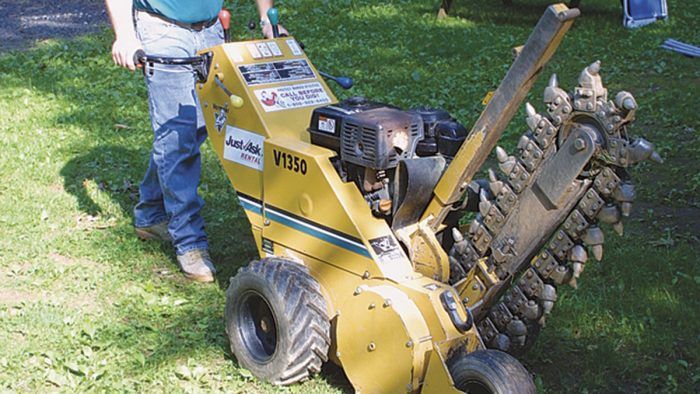 The tools you need to install outdoor wiring are pretty much the same ones needed to wire a house interior. The big exceptions, obviously, are digging and earth-moving tools. A square-nosed shovel or spade is the most useful tool when you're making a shallow slot for low-voltage cable A. If you're actually digging a trench, use a trenching shovel with a pointed nose and a reinforced shoulder that you can stamp on with a boot to drive it deep.
| | |
| --- | --- |
| A) Use a square-nosed shovel to create shallow slots so you can tuck lo-vo cable into the ground. | B) Rent a ditch-digging machine, also known as a trencher, to save time and avoid a sore back. |
Digging trenches is hard work, however; so when the pros have to dig a long or deep one, they rent a gas-powered ditch-digging machine, also known as a trencher B. A trencher looks like a cross between a powered garden tiller and a chainsaw and typically cuts a trench 4 in. to 6 in. wide and as deep as 24 in. Spread sheet plastic on either side of the trench so you can place the dirt from the trench nearby—which makes refilling the trench easier. Wear heavy boots, heavy gloves, safety glasses, and ear plugs when operating a trencher.
Materials
The NEC requires that all exterior outlets and circuits have GFCI protection. This protection includes the following:
A GFCI receptacle installed in a weather-proof box.
A standard receptacle installed in a weatherproof box protected by a GFCI receptacle installed upstream (toward the power source).
A circuit protected by a GFCI breaker.
Exterior light fixtures do not need GFCI protection. If the box is surface mounted, it needs to be raintight. If the box is recessed in the wall, it does not. The fixture must be listed for damp locations if under eaves and listed for wet locations if directly exposed to weather.
There are two common types of weatherproof covers (also called raintight covers). A weatherproof while-in-use cover has a plastic cover that shuts over an electrical cord, such as that used for holiday lights. A weathertight cover is a gasketed cover that shuts tight over the receptacles when not in use. For any receptacle exposed to rain or splash, the NEC requires covers to be the "weatherproof in-use" type, per NEC 406.9(B)(1). For receptacles in damp locations but not subject to beating rain or water runoff, a simple weathertight cover is required, but an in-use cover is not required, per 406.9(B). Also, all exterior receptacles are required to be of the "weather-resistant" type.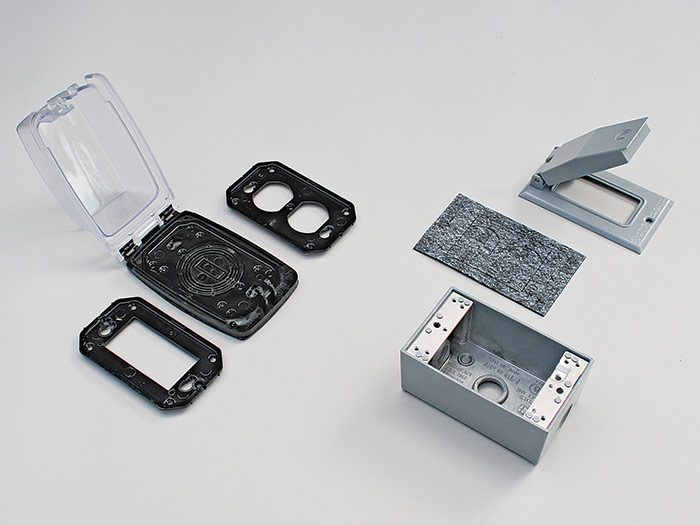 Aboveground, electrical cable must be housed in conduit with raintight fittings (see the photo). You can use polyvinyl chloride (PVC), thin-walled electrical metallic tubing (EMT) conduit, threaded intermediate metal conduit (IMC), or rigid steel conduit (RSC). PVC fittings are glued together to achieve a raintight fit; EMT conduit uses compression fittings; and IMC and RSC use threaded fittings or compression fittings. Note: Common EMT conduit fittings (both setscrew and compression type) are intended for interior use, are not raintight, and therefore are not suitable for exterior use. Look for compression fittings that are identified as raintight.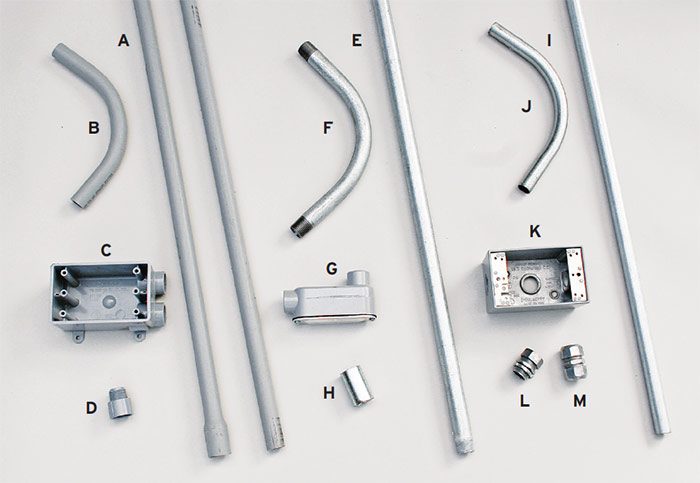 Belowground, you can run flexible underground feeder (UF) cable at a depth acceptable to local codes—typically, 18 in. deep. Some codes allow you to dig a shallower trench if the cable runs in steel conduit, but because threading steel conduit requires special equipment and advanced skills, it's not a reasonable option for most nonprofessionals.
Safety Alert: Avoid plugging or unplugging devices into exterior receptacles—or using corded power tools outside—when it's raining or snowing.
---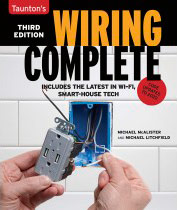 Excerpted from Wiring Complete, 3rd Edition (The Taunton Press, 2017) by Michael Litchfield and Michael McAlister
Available in the Taunton Store and at Amazon.com.
Previous:
Running Power to an Outbuilding
Next:
Protect Your Outdoor Electrical Outlets