Basement Entertainment Center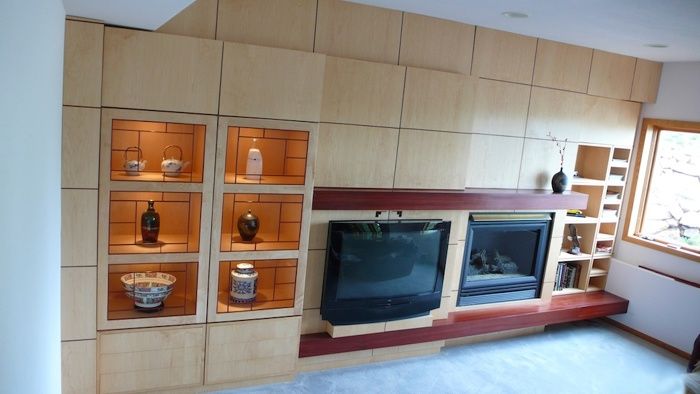 In this project I had to solve several problems. First part of the concrete foundation extended 30 inches into the room on the left side, then there was overhead duct work, a fireplace, a 26 inch deep HDTV, and a window extending to within 15 inches from the wall on the right side. Further, I wanted a moderately deep built-in china cabinet. I solved these problems by staggering the unit in five sections with a 4 inch staggers starting on the left side. On the closed cabinets I used push driven magnetic catches and hidden hinges so that no hardware is showing. Consequently, you cannot determine where there is just panelling over the duct work and the fireplace and the cabinets. The staggering fits the overall outside house design which is also staggered. I used a Frank Lloyd Wright's note/alf note design on the shelves and magazine storage shelves on the right side and the china cabinet windows on the left. The 250 lb TV slides out for service and the satellite receiver is behind the TV.
The unit is built from 3/4 inch Maple MDF and Bloodwood. The bloodwood mantle and hearth was veneered while the accent strips between in cabinets are solid bloodwood cut into 1/4 inch strips. Construction was done using a series of 27×17 inch maple MDF boxes stacked on top of each other with a 1/4 inch gap filled with the bloodwood strips. This allowed me to handle and stack the boxes without outside help. The unit measures 17×9 feet. This was a fun project to design and build plus a big learning experience as it was my first veneering effort.