Shearwater Beach House- Remodel and Addition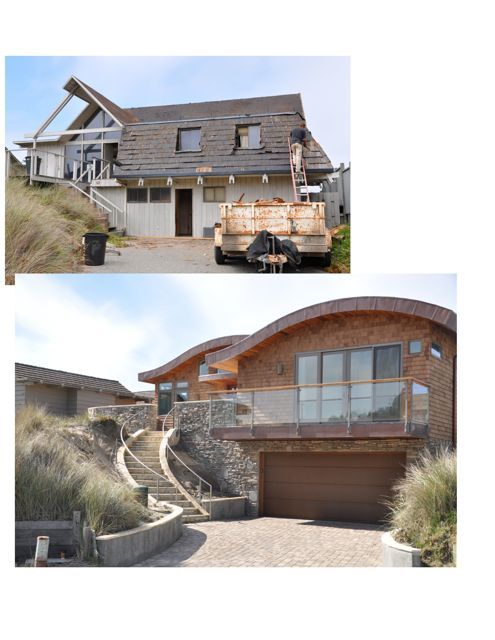 Project Description:
Every project has unique qualities and challenges in design. This project was very special because of its beachfront location. The original 1960's beach house, with its A-framed mountain cabin aesthetic was misplaced. This remodel has transformed it into an art form complementing its natural environment.
The home is located on a small bluff just above the sea wall. The structure was all wood, with no insulation, single pane windows and a plank and beam floors with no floor cavities. Some of the windows were plexiglass Originally 2133 square feet, the remodel added 964square feet of living area totaling a new square footage of 3097 square feet, plus a two car garage. 
The owners primary goal was to create a contemporary living experience that would be enduring structure and would not require a great deal of maintenance. Also important was to maximize the incredible view of the bay. This simple aesthetic grew in scope and complexity as the design was developed. The environment at the "Dunes" is very severe. Sun, rain, and wind all take their toll and material selections are very important. Although the project had no municipal requirements for sustainability and is not planned to be certified by a third party "Green" organization, our own direction encouraged energy efficiency, resource conservation, indoor air quality and use local suppliers, materials and trades people. 
An integrated design and construction process was an opportunity to incorporate green features with choices on materials and finishes evaluated for sustainability, health and durability. The rolling copper roofs lowered the overall building height and convey a more open sensuous profile while at the same time provide durability to the harsh environment.  
Entering into the home the open living space and curved cedar ceilings continues to an expanse of glass with the pacific ocean as the backdrop. Beautiful, healthy and durable finishes detailing complement the style throughout the interior.Closed cell foam insulation, radiant floors, no VOC finishes and pianists, Control 4 whole house control system and more are part of the integrated design solution.
"BEFORE & AFTER" The original home was built in the early 60's and was quite weathered, didnt fit the beach neighborhood vernacular.
Kitchen viewed from the Great Room. Custom milled cedar ceiling, VG cherry cabinets laid horizontally and a handmade copper fascia under the bar.
Great Room from the Dining Room. A "floor light to the bottom floor mirrors te skylight above.