Vande-Musser Residence – A Net-Zero, LEED Platinum Home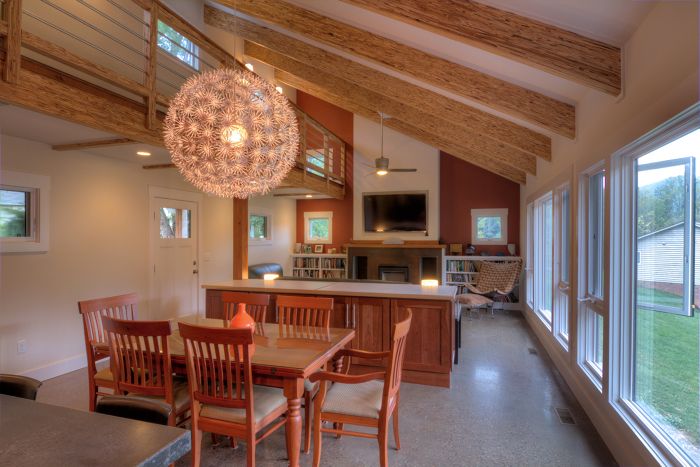 Built in Asheville, NC in 2011 and housing both the personal residence and professional offices for a husband and wife's home energy rating and architectural design companies, it was of utmost importance to be able to use the home as a experimental lab and teaching tool for clients. With this in mind, the home was designed to seamlessly blend old school passive solar design, environmentally responsible finishes, cutting-edge technologies, and a clean, modern aesthetic. It is Energy Star, EPA Indoor AirPlus, and NC HealthyBuilt Homes certified, and also achieved a platinum LEED for Homes designation.
By initially focusing on the most cost-effective, passive strategies to increase the home's efficiency, we were able to get the house to perform 56% better than code. From there, solar thermal water heating and photovoltaic panels were able to increase the performance to 88% better than code (final HERS Index of 12). Through careful monitoring and use of electricity, the home is performing as net-zero. The biggest challenge was to get the home to perform as net-zero for the most reasonable cost. Through careful design and system integration, along with carefully navigating the various local, state, and Federal incentives available for energy efficiency, we were able to build the home for the same cost or less than what other people have built similar-sized homes in the area.
The site lended itself quite well to a passive solar home design. The gentle elevation drop from front to back of lot also lended itself to a walk-out basement. The ability to put a large portion of the finished square footage in the basement helped to minimize the scale of the project and also lower the construction cost per square foot. The lot shape allowed for the majority of the house to be only 18 feet in depth to maximize the passive solar and natural ventilation opportunities in the house.
Since the homeowners work in the energy efficiency industry and also designed the home, the educational aspect that was focused on was primarily for clients (and prospective clients) who come to visit the home for meetings and tours. The house is ideally laid out for large-volume tours and has already been on several local and regional green building tours. Signage has been created that can be hung around the house to help explain the purpose of various energy efficiency strategies when a homeowner is not available to explain it in person.
view from dining room toward living room
view from northeast corner of property toward front of house
view from living room toward dining room and kitchen
master bedroom looking toward south-facing windows
view from east side of property toward side and rear of house