Allen Residence, Asheville, NC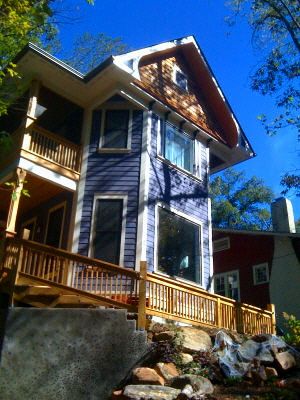 This house is one I designed and built for my family. We moved on to our street a few years earlier. We were able to purchase an infill lot from our neighbor so we were able to get a new house without moving off of our street. The lot faces a very steep street. To the downhill side there is a small stream and a park beyond. The design objective was to create spaces within the home that focus on the forest setting primarily opening up to the downhill side and, overlooking the stream and park below. The layout is based on a "single house" plan as found in Charleston, SC. Having lived in Charleston I came to appreciate the efficiency of this design especially for long narrow lots. As the design for the home evolved, it became a clear to choice to play up the vertical proportions of the facade. The steep street frontage and the tall slender proportions led me to the San Francisco inspired front side.   
The intent for the layout was to create a spacious, comfortable home with a cozy feel. The house has living space on four levels. The basement leval has a shop, an enrty hall, a half bath and a spacious office/studio. The main level includes the kitchen, dining, and living rooms as well a a half bath and coat closet. On the second floor are 3 bedrooms and two full baths as well as the laundry and linen closet. The attic level has a bedroom and a section of unfinished storage. 
For the interior detail we found pieces form India and Thailand to incorporate into several features of the home. My favorite was a large hand carved door frame imported from India we found in an antique dealer's place nearby. We carefully disected this and were able to use most of the parts. We used pieces from the door frame in the mantel, bar, stair railing, and a window seat built into the stair landing. This was a lot of work, but carving the pieces ourselves would have been out of the question. 
Open plan kitchen and dining for entertaining. Heart of the home.
Hand carved elments used for the mantel.
Screened balcony off of the master provides great connection to the wooded setting.