Green-Champagne Taste on a Light-Beer Budget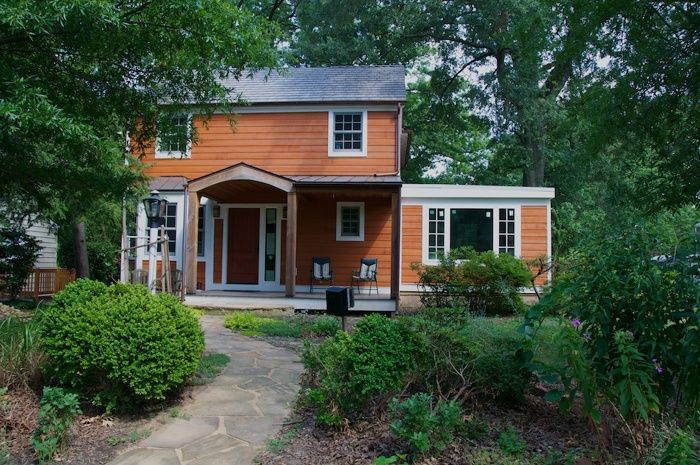 Green-Champagne Taste on a Light-Beer Budget
Two full time jobs. Little cash. And grand plans to make a drafty, 1941 fake-colonial a green gem in a gorgeous tree-lined neighborhood. 
What started with discussions of improving the efficiency of some old window air conditioners, quickly mushroomed into a complete home renovation that, due more to circumstance than desire, was being general contracted and largely constructed by us, two middle-aged professionals with fulltime jobs and zero construction experience.
Our goal: make a drafty, inefficient, poorly designed house an energy-efficient, open, light-filled home using reclaimed, recycled, environmentally-certified, low-toxic materials and methods.
The original 1941 structure consisted of only 800-square feet on two levels with two microscopic bedrooms and one bathroom. In the '50's, a 320-square foot, one-story room was haphazardly slapped onto the back of the house. Variously used over the years as a bedroom and a living room, it contained a fireplace and a toilet-two items that are never good together!  It was dark, drafty, and tired like the rest of the house.
We needed a whole-house space reconfiguration, total energy-efficiency overhaul, and materials update, all while staying under $250,000, a challenge with the DC labor prices. We needed:
All new energy-star or better windows;
Insulation (the house had none);
New siding;
Reconfigured interior space;
New master bedroom & master bath construction;
New porch;
New heating system;
New air conditioning system (house only had a few window units);
New electrical and lighting;
Reconfigured internal stair;
New roof;
New flooring; and a
Heat-recovery ventilation system.
While contractors built the new porch, exterior structure, installed the air conditioning and drywall, we did the rest. Ably assisted by Joe's father for part of the project, we set about on a 3-½ year journey, without completely destroying a healthy relationship! We handled demolition, rough and finish carpentry, window replacement, electrical, partial heating system installation, tiling, flooring, painting, and trouble-shooting all the things that inevitably go wrong or are unanticipated during a renovation project. Additionally, we maintained a blog of the project, detailing every travail at http://greenrenovation.us/.
Green features of the project include:
Re-using wood from demolished walls and old roof trusses;
Recycling of demolition debris;
Salvaged wood flooring, lumber, and tub from the local used building supply stores;
FSC-certified wood when new wood was required;
Recycled-content tile;
Recycled-content siding;
Recycled-content drywall;
Recycled paper countertops;
LED lighting;
Solatube light tubes for lighting interior spaces;
Recycled Enviroshake roofing;
EnergyStar-rated maple windows and better-than-EnergyStar-rated fiberglass Serious Windows;
EnergyStar-rated exterior doors;
Ultra-High-Efficiency, Water-Sense Certified, UHET Toilets
Water-Sense Certified Fixtures
High-efficiency gas hot-water radiant floor heat and domestic hot-water supply;
Minimal new space added to maximize energy savings;
High SEER air conditioning system;
Formaldehyde-free cabinetry and materials; and
No and low VOC finishes.
Most homes are works in progress, and ours is no different. While most of the project is complete, finishing touches continue, such as trim, painting, and furnishings. Many project details can be viewed at our website, greenrenovation.us.
The final result of this massive undertaking, a third full-time job really, is a high-end, quirky design reflective of our personalities. It's transformed an uncomfortable house into a warm, personal, well-designed and comfortable home.
Completed project, recycled content siding, certified wood, make a quirky, delightful exterior.
Original colonial-ish house.
Fun stair with custom railing reflect the owners' whimsical personalities!
Master bath with LED lighting, recycled-content tile, savlaged, jetted tub and a lot of hard work.
While still needing new furniture, this renovated living room brings light into a formerly dark, tired space.