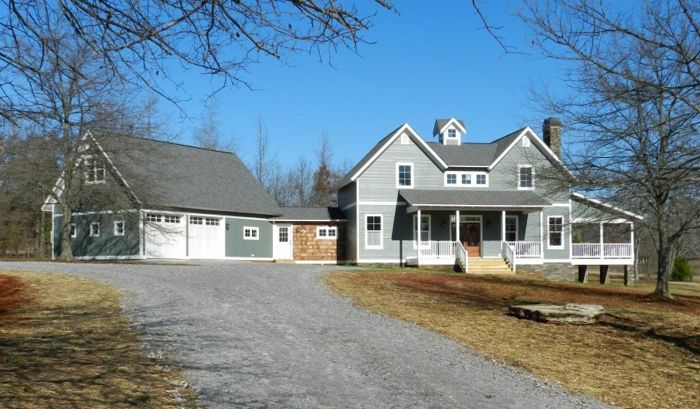 The girls had graduated college, married, and were starting their own families. We were not too many years from retirement. What kind of house did we (an engineer/amateur architect and a degreed interior designer) want to design as a home for ourselves on 12 acres of woods, fields and wildlife in the countryside near Greenville, SC ? Rabbit Run Farmhouse was our answer:
unique, yet tied to the architectural traditions of Upstate South Carolina.
welcoming to visitors, especially our daughters and their families, with areas for visiting pets and kids as well as their parents
energy efficient in ways appropriate for a mild climate, employing radiant-barrier roof sheathing, 6-inch exterior walls, a sealed crawlspace with insulated foundation walls, separation of full-time and visitor accomodations, and 16-SEER heatpumps. 
sited to use the sun to best energy advantage and maximize views. An east-side porch, west–side garage and narrow east-west footprint shield the house from summer solar gain. South-facing windows emphasize morning and evening solar gain in Winter, while a front porch limits mid-day sun to prevent overheating.
MBR and all critical areas are located on the main floor to allow for aging in place
extensive shop and barn support hobbies and small-scale farming
There were certainly some challenges. For one, how would we structure our contract with a builder to best control our costs, finish on time, and yet allow us to be the subcontractors for the kitchen and some other details of the house? Cost plus fee worked quite well. And what package of energy-efficient features would bring significant energy savings, while being cost-efficient in our climate and simple to install ? The system noted above saves 30-40% of the energy used by comparable houses traditionally built for the Greenville, SC area.
Rabbit Run Farmhouse has met the challenges well on all counts, especially in terms of maximizing the enjoyment of the land around it, and providing excellent energy conservation on a budget.
Front Elevation. Though new, Rabbit Run was designed to mimic a farmhouse, with "additions" over the years
Salvaged mahogany doors open to cherry floors and staircase
The family room provides an informal rufuge with great views of the surrounding farmland. The east-facing windows fill the house with morning light, then the porch roof takes over to shield from summer heat as the sun rises higher
LED lighting and ample kitchen windows illuminate a compact space for multiple cooks. A window seat and built-in table welcome kitchen visitors.
Two suites upstairs each include their own bathroom and a sitting area for the comfort of guests.