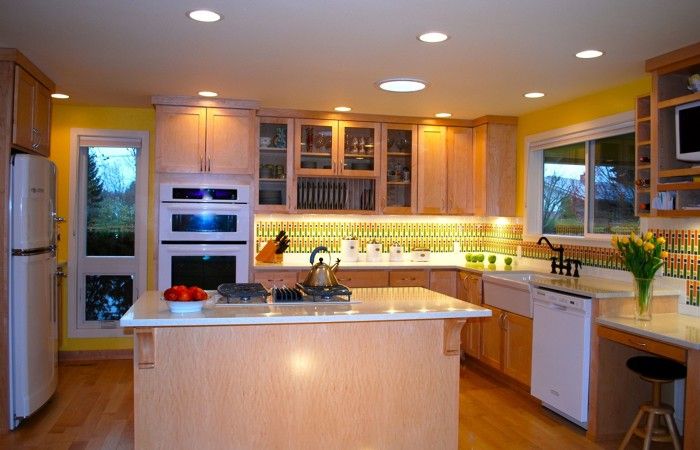 Located in a unique Seattle suburb adjacent to a 500-acre equestrian park, this 1973 residence is home to humans and horses.
The original kitchen was dark and poorly crafted; work surfaces were disjointed and a low soffit bisected the space, cutting off access to views of the horses and fruit trees.
The new design is intended to evoke country living while incorporating contemporary styling and function.
The redesign involved removing a dropped soffit and a 42″ high peninsula, thereby creating a "great room," (as opposed to a separate food prep and dining space). The peninsula became an island, improving flow from the carport into the kitchen. Two tall, narrow opaque windows were removed to increase cabinet and counter space and improve workflow; a "Solatube" skylight was added to increase natural light in the heart of the work area. Recessed and under cabinet lights provide task-specific illumination.
The net result is a cheerful, family-firendly multi-prupose space with a strong visual connection to the outdoors. 
The "Big Chill" refrigerator is flanked by a vertical cork board on the left and cookbook shelves and pantry on the right.