Dream Farmhouse Kitchen is the Heart of the Home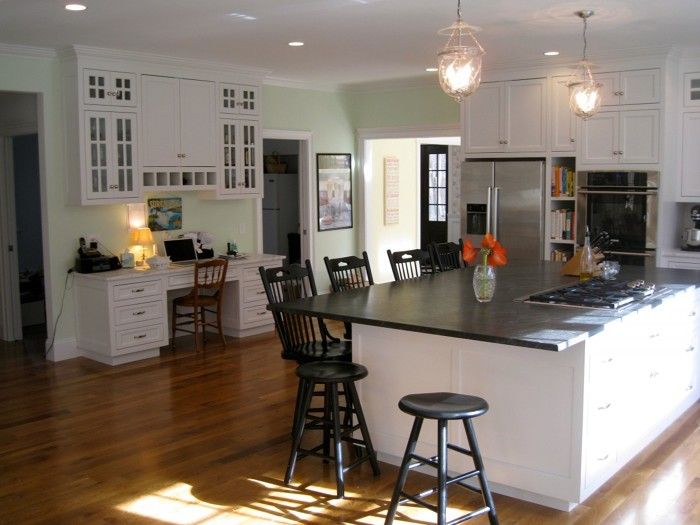 What started out as a renovation to a newly purchased old vacant home turned into a whole house tear down and moving the kitchen to a new location to be in the heart of our new home.  Although it was a new house, I wanted it to look like a New England farmhouse that had been here a while. Classic materials such as carrera marble for baking and antiqued black granite bring an aged and vintage feel (I am installing the subway tile this month), while color is introduced thru paintings, wall plates, and herb pots on our large window sill.  The kitchen gets southern exposure all day, making it a warm and inviting place for everyone to gather.  I designed the kitchen myself after spending endless hours in the empty space during construction making "mock meals" so I knew where everything should go.  My place at the cooktop behind the 9.5'x5.5′ island feels like a stage as I cook for my company, although I can easily accommodate 3-4 sous-chefs (usually my kids, ages 10 & 12).  I wanted plenty of space for multple people in the kitchen at once.  The large island keeps the kids close by when doing their homework, whie still out of the way while I'm cooking.  
Almost all drawers in base cabinets make for plenty of easy access storage.  A narrow utensil drawer underneath the gas cooktop makes great use of otherwise wasted space and allows for one less crock on the island. The huge bank of windows overlooks 2 acres of lawn where our kids play so I can cook and keep an eye on them at the same time. Two extra deep sinks – one just for drying dishes – means no pots or pans are ever visible on the countertop.  A desk area across from the island serves double duty as a bar during parties, and the upper cabinet houses cable tv for watching cooking shows while I'm making dinner.  I am currently designing the butlers pantry to the right of the desk area behing the 1/2 french door.
This truly is my dream kitchen where I spend 5-6 hours a day. Classic – not trendy- materials mean it will never go out of style or look dated.  This project proves that beautiful kitchens don't need to be expensive or involve professional designers.  In the end, I just needed to trust my instincts and be willing to put in the time and some sweat equity.  Now, i just need to keep pinching myself!