An Addition for a Dinner Party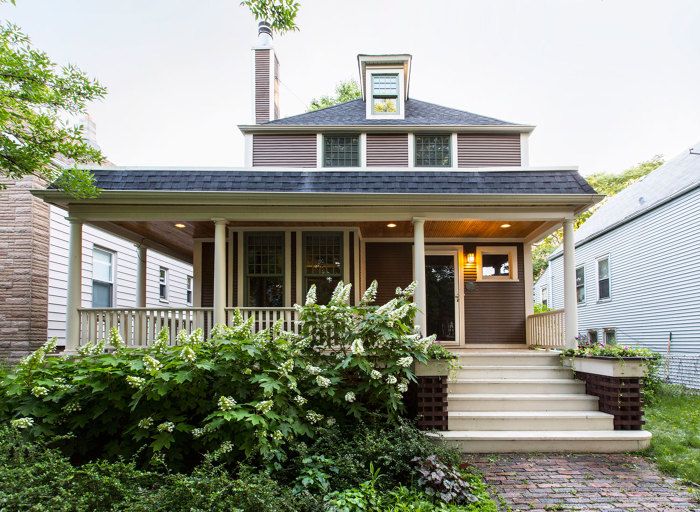 The desire to have a dinner party for 10 guests, all the while being able to connect to them from a new kitchen, inspired this gut rehab with new colors and materials and an addition. The re-skinning of an asbestos-clad, balloon frame with stained cedar siding. The existing house was all drywall and inexpensive replacement windows. It retained its beautiful oak trim and we used that as a starting point to make the addition.
The addition itself was made to complement the lifestyle rather than be an investment vehicle. Thus we went up only one story and did not crowd the neighbor too much. Again, lifestyle trumped economics.
The ceiling between the existing and the addition was to be flush and I specified a parallam which had to be 14″ deep to resist the bending. We cut off the balloon frame uprights above the second floor and shoved the beam into the pocket. It came to rest just below the second floor electrical outlets.
We replaced all but one of the windows with Marvin white oak windows and stained them to match the red oak. These windows gave the house a gravitas that the white vinyl ones lacked.
The client like her kitchen but wished to put resources into longer lasting design elements like masonry. Too often brick today is used like wallpaper. Here we found solids, an older way to make brick, and articulated them to create pattern, shadow, and texture. There are three similar details in the fireplace, the porch, and the south wall.
We used leftover solids as pavers and planted a waterless lawn that acts as a rain garden.
Cedar siding was installed and stained a solid color. This will ensure that "repainting" is merely about power washing and re-staining, eliminating the need to scrape and clean up hazardous paint chips.
New porch and front elevation with an oak leaf hydrangea in bloom, permeable pavers and a waterless front lawn
The original house stopped 1 foot to the right of the fireplace. Everything is new save for the trim and the doors to the new deck in the rear.
When guests arrive, they look at the fireplace and ask what was new? Everything you see here!
In place of a wall, a bar was made to connect the cook with her guests.
It was quicklly agreed that the blue asbestos siding and the vinyl windows would be first to go.