Contemporary Camp in the Woods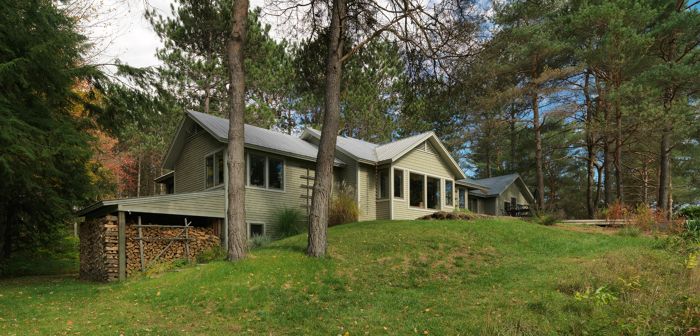 This project is about choices and represents a 27 year case study of a designer's own home. The property is located in Hyde Park, VT and began as a 960 SF house and over the years has grown to 2,323 SF. Instead of choosing to move to a new location and build a new home, we made the choice to accomplish a Deep Energy Retrofit and to staying where we were. The following were the drivers for this project:
1. Stewardship of the land. We have 8.5 acres of sandy agricultural land that was planted with red pine and scotts pine in 1947. Over the years, we have tended to the forest with the plan that some of the red pine might live for another 100 years, developed over 3,500 SF of perennial and vegetable gardens and created a high quality landscape that is aesthetically mature and welcomes wild critters of all local species. While the idea of building from scratch elsewhere has its appeal, we remain enthusiastic and committed to the stewardship of the place – our refuge. At our age, there was not a way we could start over and experience the same quality of landscape. 
2. Increasing energy efficiency. The original 960 home had 1 bedroom, one bathroom, a mudroom, an open floor plan living/dining and kitchen and was primarily heated with an Elm wood stove. We installed a basic FHA LP furnace to cover the rest of the building's heating requirements. The basic construction methodology was the standard of the day – consisting of 2×6 wall construction insulated with Kraft faced fiberglass bat and a 6 mil poly vapor barrier; the roof structure consisted of 2×4 top and bottom chord roof trusses insulated with 12″ of fiberglass batt and 6″ of wood cellulose as a cap. We installed eave and gable vents.  We installed Andersen double glazed casement and fixed sash windows and doors. The exterior was resawn locally sourced spruce clapboards over Typar and plywood sheathing. The roof was galvanized pocket rib from Canada and installed over skip sheathing. The interior walls and ceiling was finished with sheetrock and paint.
In February 2011, months before the planned commencement of de-construction and re-building phase, we had our home performance tested by an Efficiency VT certified tester. Our now 1,400 SF existing house base tested at CFM 50: 2050. Not too awful we were told considering the age of the house and the construction and insulation methodologies employed. Not very good either. Later that spring, Lindsay Jones of Efficiency VT. suggested that our end goal should be around CFM 50: 1000. Scott Gardener, from Building Energy, pushed us to reduce this even more, and why not? We were preparing to disassemble 60% of what we had built over the past 26 years and rebuild for the energy efficiency, the value and for improved aesthetics for the next 20 to 25 year time period.
On May 7th 2012, following 4 intermediate blower door tests to cue us in on our air sealing progress and fastidious PL polyurethane caulking, air sealing, and the examining of construction details, our 2,323 SF ""just big enough" house tested at CFM 50: 675. Using Energy Star Version 2.5, the house's HERS rating scored a 48. Lindsay reminded us that only with renewable such as PV and solar hot water could we expect a significantly lower score number. While we have designed homes that are completely off the grid, employ solar collectors for domestic hot water and collect rainwater for 100% of the needs of the occupants, my overriding design counsel to clients who are interested in energy efficiency is to steer them to the performance of the envelope before considering these bells and whistles. We followed the same counsel.
3. Economics. We figured that we might stay at Raven Beach for 20 more years. If we did not materially affect the energy efficiency, our then 45 year old home would be old enough to not have much value to a future owner and they would probably undertake a significant renovation or perhaps deep energy retrofit (DER) or a tear down and start over. So, even though the value of the land, landscaping and site improvements will have increased in 20 years from now, the value of the house itself would not have increased in value, it would have gone the other way. Additionally, our 1,300 SF home had one small bathroom and two bedrooms and it needed to be re-roofed, re-sided and the windows and doors were many generations older than the current offerings. We knew that in 20 years, Terri would be 77 and I would be 85 and that we would want the equity in Raven Beach to as high as possible perhaps to help finance any next lifestyle move due to health and mobility issues we may have. We do not think of this as being a grim scenario. Quite the opposite – our plan was and is enlightening and uplifting.
4. Reuse and renewal. As part of a plan to reduce our contribution to the waste stream, we developed a plan, that while the intentions were good, it was a challenge to get more than a handful of folks on board. The plan was to first find a reuse for anything possible – construction grade wood, finished wood, roofing metal, cabinets, recessed light fixtures, copper wire and piping, plumbing fixtures and fittings, fiberglass insulation, old wood cellulose insulation, 26 year old windows and doors before taking any next measures. This and bulk recycling went pretty smoothly. We were vigilant about recycling anything that could be recycled if it could not be reused. Unusable scraps of burnable wood were burned as was cardboard that got soaking wet. Sheetrock went into the dumpster along with some non-recyclable plastics. What Terri and I ended up doing several times a week was to trash barrel and dumpster dive for what I'll call "personal recyclables" – water and soft drink cans and bottles, lunch food packaging along with nail box cardboard and similar type of packaging. No amount of discussion or education seemed to have a significant effect and we were not going to the extent of thinking of some penalty. As part of being the general contractor on the project, we'd do it. There is a recycling dumpster in Stowe at our office. Dozens of the large brown paper leaf bags were filled with personal recyclables and deposited there. Given that we heat with wood, our kindling stack will last for years. It's a good thing that we have a fire wood shed.
5. The artistry and craft of architecture.  Design integrates. Design collaborates. Design is the result of conscious decision making. To design is to enter into a realm of varying degrees of chaos. Chaos because there are often competing and conflicting interests, materials, textures and compositions that, in addition to all the valuable and desirable elements, must be addressed for the design solution to be successful. Most of us approach chaos, or upended-ness, or un-settled-ness with either timidity or fear.
We were headed into a lot of design and we shared a curiosity and a willingness to explore some of the edges together. It was apparent to us that the prospect of re-using and renewing our home of 26 years was going to be quite an adventure.
It is safe to say that the pragmatic and performance aspects of our house were not insignificant constituents at the design table. In our case, the richness of conundrums is energizing and illuminating. Here we were, personally renewed from nearly 30 years of running a design practice in Northern VT., thinking about staying put for another 20 plus years and taking our home of prospect and refuge apart to start over.
We both read FHB and Dwell magazine's monthly offerings with gusto, drawn in by the simplicity of form and composition, by the dominance of smaller rather than larger dwellings and by designs that consciously developed the extraordinary connections between the occupants of the building to the physically urban or rural environment. This is not that complex, really, and we had, in our relative youth, accomplished a great bit of this with the design of our original Raven Beach.
So, we'd focus on the materials of a classic camp. Our pallet would be composed of 5 different species of wood, stainless steel, black iron, copper and galvanized steel, concrete, large scale ceramic tile, glass, and natural finishes. It is how we assembled and composed the materials that result in contemporary; windows without muntins and arranged to the room corners for the introduction of diagonal movement through the spaces; a large FOOF door to connect a polycarbonate roofed south porch (to be screened) to the intimacy of our living room and it's wood burning fireplace; beams and other structural members assembled using smaller sticks and bolted together to reveal the fasteners and the joints; galvanized roofing on two entry and mudroom walls; the concrete kitchen counter top with the imbedded stainless steel drain board; 31 stainless steel Tech ceiling mounted MR-16 LED light fixtures to light our art and our pathways throughout the house; 4 x 4 galvanized hog wire and black iron stair railing system.
All of this in a high performance envelope. Because of the extensive use of wood cellulose insulation, the air barrier for our house is the 5/8″ gypsum board and therefore we could not penetrate this barrier with the interior beam framing. All these details had to be resolved to fully maintain the integrity of the air barrier. There was excellent head scratching going on now and this is one example of the way in which we worked collaboratively with our great team.
6. Local materials and reduced toxicity.  We knew that within 500 miles of Hyde Park, VT there were manufacturers and suppliers that we could easily purchase from. Beginning with galvanized roofing from Ideal Roofing in Ontario, Advantech, no formaldehyde, locally sourced timber products from Maine, triple glazed Inline fiberglass windows made near Toronto and sold thru Steve Carey at the Loewen Window Center of Vermont and New Hampshire in White River Junction, VT., triple glazed LePage eastern white pine (from equally local sourcing) hinged doors and screen door made in a small town along the St Lawrence River in Quebec, rough sawn and planed northern VT hemlock for exterior rafter tails, exterior built-up timber elements, interior built-up beams all milled in North Hyde Park, VT by M.B.Heath & Son's Lumber Company, red oak flooring from southern VT sources milled by A.J. Johnson Mill in Bristol, VT., kiln dried, band sawn, eastern white pine for the exterior house siding, kiln dried and planed eastern white pine for the ceiling planking, interior trim, door and window casing and kiln dried framing materials purchased thru Country Home Center in Morrisville , VT. and sourced from New England forests and the wood cellulose insulation products also sourced in New England.
 Although not locally manufactured other materials were chosen for their only being sourced from areas further away, for their durability and in some cases, beauty: ceramic tile from Spain and Italy, cement and cement stain for the kitchen and bath countertops, a wee bit of quarried and polished stone for a shower threshold, plumbing fixtures and fittings, some of the light fixtures, foam insulation products, cabinet hardware, door hardware and paint and PTO products.
We chose to not use any urethanes as a finish. We wondered, why build something beautiful and then believe that we need to encase it in plastic to protect it from ourselves? We, like others, have chosen to be more directly responsible for the care and stewardship of our environs – include our houses and our homes. Together, Mike Brown of Colonial Floors and Mary Goderwis of Sutherland Welles, LTD., worked to create a finish for the red oak floor that offered a consistent sheen across the open and closed grain of the wood. We used PTO based products as a wood finish on all other wood surfaces included the eastern white pine running trim, window and door casing, the eastern white pine, two panel room doors, the oak and ash cabinets, the interior post and beams and the eastern white pine ceiling boards. Because we did not want the eastern white pine to yellow, as it typically does with age, we added white pigment to the PTO applied to the ceiling boards and interior ceiling beams and details. This is the only finish on these wood surfaces. The window stools and doors have up to four coats for added durability.
7. Optimizing experiential and applied educational opportunities. For me, there is also another essential ingredient that this approach would engender: there is no replacing the valuable learning that comes from being a designer, spending our own money on our own design and living with the choices and decisions and within financial parameters. This is especially true for Terri and me because, over the course the past 27 years, so much has changed with regards to building science, awareness of the environmental and human impact of material choice, the availability and accessibility of information regarding products and materials and the sheer criticalness of designing and building energy efficient building. My observations and experiences of nearly 30 years as a design professional, is that until we designers spend our own money on our own projects that we cannot fully grasp, appreciate or honor the magnitude of stewardship that is inherent in advising our clients on how to most wisely spend their money on the design and construction phases of their project. I have long believed in and practiced the hands on approach to experiential education and learning. The approach to our project that Terri and I were contemplating would be another in a life-long series of unique experiences that would add to our knowledge and help support and refresh our leadership of our design firm.
8. The sacredness of everyday architecture. Our Raven Beach is, in fact, more like what a camp is to most people. For quite a number of years, this was an image problem for me. Slowly, I came to realize that if I could live in anything, it would be to live in a "camp" full time. Camps are about connection to the land, to the critters around us, to a quiet way of being in harmony with the place and to engendering gentleness and compassion for ourselves and our families. Good food, crackling fires, a place of sweet refuge and opportunities for prospect are there too.