Craftsman Cottage Addition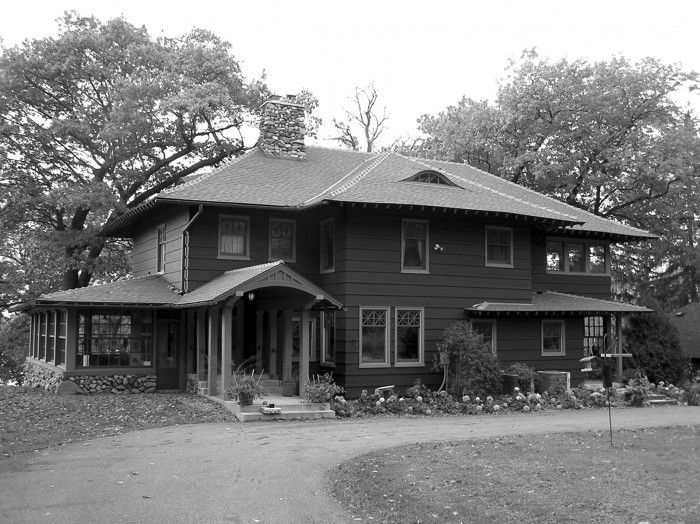 Once offered for sale as a tear-down, this 1905 craftsman-style lakefront retreat boasted sweeping porches, idyllic views, and moments of leisurely reprieve. Our client fell in love with these when she moved in, but dreamed of an entertaining kitchen, something the house severely lacked.
The idea for her ideal kitchen grew out of Sunday Supper- a standing invitation to friends to make dinner together each week. She needed a kitchen that would accommodate large parties, multiple cooks, and ample seating for kibitzers-yet be intimate enough for her own daily use.
We started in an empty warehouse. A scheme from our preliminary design process was taped out on the floor, miscellaneous furniture stood in for the fireplace and other features, drinks were poured, and the 'mocktail' party commenced. Friends discussed and used the design, and in doing so, revealed patterns of gathering and respite. We observed how, through the use of layered spaces and visual connection, multiple clusters of people in distinct areas might use the space simultaneously and effectively while staying connected to the conversation.
We designed a kitchen appropriately scaled to her various needs, all of it encapsulated within period-style cabinetry, tile, and finishes.  Within this large kitchen is a work space designed for one, with the cooktop, ovens, sink, and refrigerator close at hand. Beyond this central hub, there are multiple prep areas that can accommodate many people working simultaneously. The octagonal serving table at the end closest to the dining room affords diners a close look at the cooking action without getting in the way. The oversized island, complete with integrated refrigerator and freezer drawers, provides ample storage for everything at-hand. Baking occurs around the corner in the pantry area where dry ingredients are stored. Cleanup is concentrated at the large custom stainless steel sink that sits next to a fully integrated dishwasher. The bar area contains refrigeration, an ice maker, custom bottle rollout, and another dishwasher.
The kitchen is accessible for a range of dining options, from the cozy morning room, to the romantic lakeside dining area, to the formal dining room.  The kitchen, while at the back of the house, still affords spectacular views of the adjacent gardens to the east, but also the lake to the west. Careful space planning for the central kitchen nucleus and peripheral work areas results in a kitchen that suits Sunday Supper gatherings as easily as catered affairs for 100. Or breakfast for two ~ all in the context of a magnificently restored architectural gem.
Kitchen with custom table, lighting, & cabinets
Outdoor kitchen with custom lighting and cabinetry