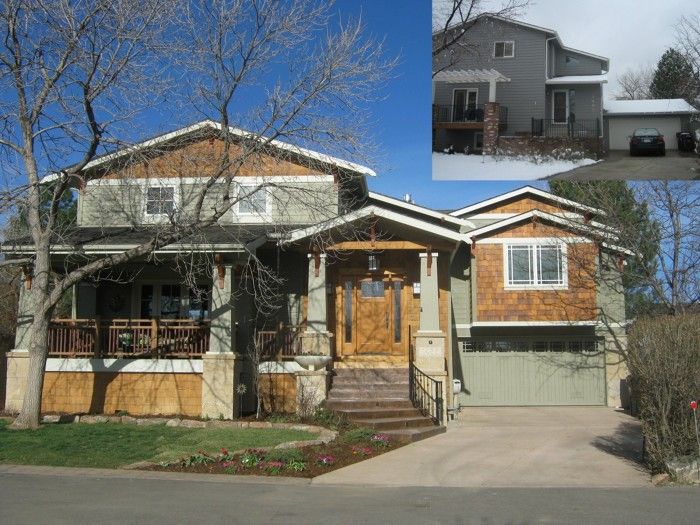 A Craftsman makeover of a plain house included a front porch, foyer, and Man Cloud over the garage.
The homeowners requested a Craftsman rebirth for their house. The original (inset upper right) was plain, the front steps were steep, the front porch dysfunctional. The remodel added a new look, a new foyer, and a new media room (affectionately referred to as Man Cloud) above the garage. See more in http://www.houzz.com/projects/23546/Craftsman-on-the-Park
Comfortably scaled front porch doubles as a three-season outdoor living room. The large columns anchor the deck rails, built from composite materials for low-maintenance and anccented with wrought iron ballusters.
In the new foyer, the tile floor pattern is made of glazed tile, marble, and textured squares; a red birch built-in bench and "lockers" provide ample space for the family; Hubbardton Forge pendants
Above the garage, the new media room takes advantage of the roof shape to enlarge the volume of the room. The decorative trusses incorporate a bracket to mount the screen projector. The trusses were hand-hewn and stained to order on-site. Rustic knotty alder houses the conveniences of a modern wet bar.
Natural light from clerestory windows highlight the clean, contemporary lines of the powder room. The wood textured porcelain tile floor acts as an attractive slip-resistant surface. A window seat by the fireplace takes advantage of the cozy space under a lower roof section.