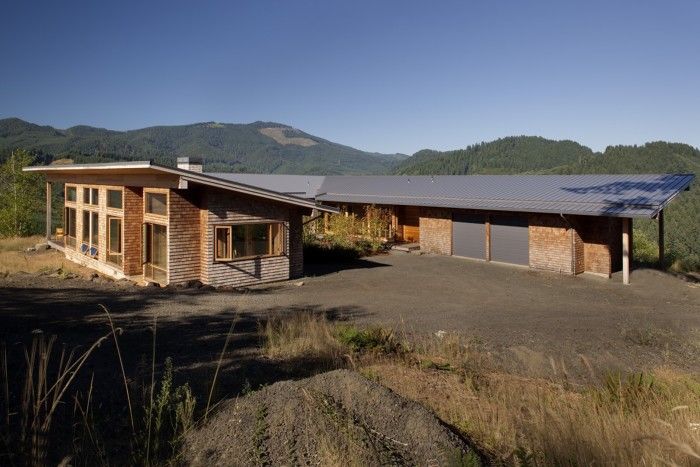 Roderick Ashley, Architect
Boydston Construction, Builder
Interested in constructing a structure that could be used as a gathering place for extended family, the owner also desired to create a place to meet and conduct business for their growing Forest Stewardship Council (FSC)-certified forest and showcase different wood species harvested from the property. This is a structure that will be in this family for a long time to come. It serves both their personal and business needs, and assists in telling their story of turning the property into a sustainable forest practice producing a valuable product. 
The retreat is constructed on an abandoned logging deck high above the Alsea River in a 650-acre FSC forest in western Oregon. Oriented to panoramic views and situated close to the "Mother Tree"-the only remaining tree from logging operations by previous owners-the site is approached via a three-mile-long existing logging road. The forest has been gradually replanted over the past 30 years.
The more than 2540-sq.-ft. partial-basement Digger Mountain Retreat treads lightly on the site, emphasizes a strong living-out-of-doors connection, uses no off-site resources when uninhabited, and almost none when fully occupied.
The decision to build on the logging deck meant that no trees or ground cover would be removed for construction and existing logging roads could be used for access. The heavily compacted soil did not percolate well nor did it allow for any foliage re-growth. New building coverage and associated runoff was easily mitigated by routing storm water into existing drainage swales and using indigenous landscaping.
Finding a general contractor willing to commit to the project's aspirations and travel the long distance-and difficult terrain-to reach the site was a challenge. After a two-month search did not produce a single prospect, a general contractor was stumbled upon who, ironically, owned an overnight-stay fishing cabin on the river and was extremely interested in the challenges of the project. It was essential to use simple wood-frame construction and straightforward detailing both from a constructability standpoint and to attract subcontractors living in the area.
The plan is a simple response to available resources, magnificent views, and constructability. Three connected wings frame a courtyard that will eventually be enclosed to protect vegetation from deer and other natural herbivores. Corner decks provide partial outdoor privacy. Narrow floor plates and large expanses of operable glass provide abundant day lighting and natural cross-ventilation. Overhangs protect the glass from high sun in the summer, and trellises will eventually be added to aid in solar protection. Main living and business activities occur in the large open space; one wing contains the main sleeping area and garage; and the third wing provides two additional bedrooms and a sitting space that can be used as sleeping quarters.
As the design progressed, it became clear that alternative sources of supplying energy to the project would need to be explored due to the extremely high cost of bringing utilities to the site. Electricity is produced on site by a micro-hydro generator and a photovoltaic array. The energy is stored in batteries located in the garage. While generator was installed by the owner and assisted in powering tools during construction, the photovoltaic array was added the second year of occupancy to further decrease dependency upon outside fuel sources. Propane is imported for cooking, drying clothes, and supplying an emergency generator if needed. In addition, the potential of harvesting wind energy is being explored. The project produces more electricity than it consumes, but, unfortunately, there is no viable way to return power to the grid approximately three miles away.
The sloping metal roof collects rain water which is filtered and funneled to three 6000-gallon storage tanks for domestic and fire-suppression purposes, which in turn is treated by an ultraviolet-radiation system. Overflow is re-routed back to the stream to increase water flow for power generation. A biomass furnace burns forest debris and then circulates hot water to heat exchangers at the house for radiant floor heat and heating potable water.
Traditional shingle siding was used as the project is within a half-hour drive to the Pacific Ocean and is a proven material to withstand the wind and rain. Finish wood (alder, maple, and cherry) and hardwood flooring (curly maple) was harvested on site and milled locally. These species are showcased in the bedrooms and gathering areas. Cedar windows were fabricated locally, and interior doors were made from reclaimed Douglas-fir boomsticks harvested from the Columbia River. Only the cherry-cabinet veneers are nonlocal because the small volume required was too expensive to produce. No stains or finishes were used on the interior wood other than the water-based finish for the floors. Sustainable interior products include: low-VOC adhesives, sealants, and paints; unsealed wood wall paneling; and stone floors and shower walls. The small quantity of gypsum board contained recycled content.
The retreat has exceeded the owner's aspirations to live lightly on the site, take full advantage of their spectacular location, and to be as self-sustaining as possible.
view from entry access road
south elevation in the moonlight
looking northwest from main room
looking northeast from main room