Lake Tahoe Chalet Remodel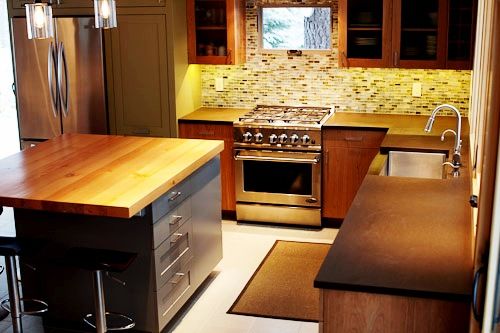 The objective of this remodel was to take this dated, typical Tahoe chalet and transform it into a modern mountain home, keeping within the existing structure, for a reasonable cost. In our efforts to attain the objective, we prioritized the use of sustainable materials and increased energy efficiency.
 Careful attention to design was critical in creating an exceptional outcome. Ned White of McCoppin Architectural Studio in San Francisco came up and spent time on the property, identifying the attractive attributes of the site, available natural light, mountain views, and analyzing the space to work within.  His skill was applied to every detail.
 Sierra Sustainable Builders consulted through this phase creating a team that brought the design into reality. Working together through the design process allowed the builder to provide valuable feedback on constructability and therefore control costs on the front end.
 What was a separate kitchen and living room was opened into a large integrated space by replacing a structural dividing wall with a substantial engineered wood beam, deliberately revealed for its aesthetic. Enhanced natural light and mountain views were brought in with intentionally placed windows. We chose awning type functionality to preserve the open, picture frame feel, and for their superior energy performance. A team decision was made during the project to bring in more natural light and to enhance the open feel of the space by tapping into the dead space the chalet design creates on the upper level by introducing 2 skylights on each side that open up into the first floor. This was a great success that added dimension to the main living area giving it the feel of a well designed, unique space.
 To solve spacial limitations, Sierra Sustainable built in custom cabinetry and furnishings, including a table that hides a flat screen TV on a 360 degree rotating lift. The kitchen is predominantly cherry wood while the furnishings are all made from locally reclaimed doug fir. To counter balance the abundance of wood, sections of the cabinetry were painted and the original ceiling beams were filled in and painted as well.
 As for the exterior, access was redesigned with contoured stained concrete pathways leading to a new timber framed covered entry. Rather than build a box for the chimney, and for far less cost than masonry, we applied rusting metal cladding to the tower adding visual interest. What was two separate decks on the south and east aspects of the house was redesigned into a wrap around exterior space with decking made from Bamboo and recycled plastic. With tenacious attention to detail, the decking lay out was modeled during design and strictly followed at install. The rail utilized glass where the view was available, and rusting metal mesh elsewhere, tying into the chimney element. 
 This project deserves recognition because the chalet is a ubiquitous architectural design from a bygone Tahoe era and this exemplifies what a talented design/build team can do with these challenging spaces within an attainable budget.