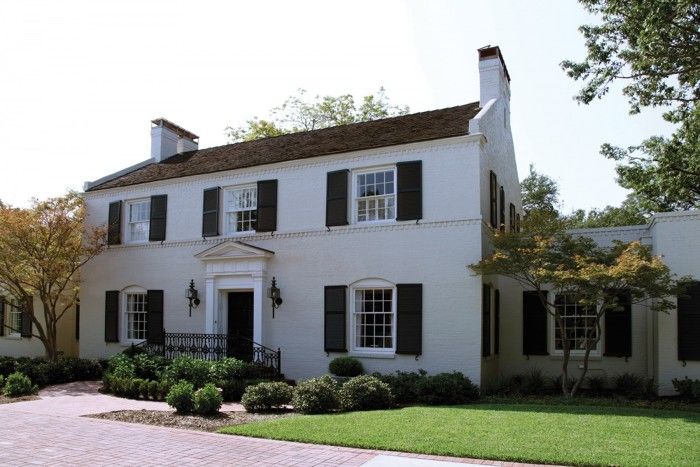 This Colonial Revival style home was originally built in the 1930s. During the 1960s there was a strict modern addition that included a long hallway, family room, and a master bedroom and bathroom on the ground floor. The U-shaped modern addition, along with a few other remodels in the 1980s, revealed a house with competing architectural elements and an inconsistent flow. When the Philpott family bought the home in 2010, it was decided that the house needed to be brought back to its original architectural history by redesigning the subsequent additions. To accomplish this, we took cues from the original part of the home as well as typical ideals of the late 1930s Colonial Revival style. Elements such as the Georgian mantel in the formal living room were kept, however the rest of the first floor was remodeled to communicate period details.
Restoration included the living room, hallway, family room, kitchen, master suite, and the addition of a small breakfast room. We also added appropriate exterior elements to both the front and rear of the home to ensure the exterior matched the Colonial Revival style of the interior. This included a historically accurate aedicule to the front entry that changed the look of the house from the street view, as well as new doors and pilasters on the rear of the home where the family enjoys spending time on their patio. This rear patio opens from the master bedroom and the formal living room as well as to the kitchen and family room, therefore was the key piece in unifying the home. The modern U-shaped addition had large panes of glass facing the patio. When these were "re-proportioned" with classical details, it helped tie together the 1960's addition and establish a proportional model that was repeated throughout the other rooms.
This 1930's Colonial Revival home was remodeled to enhance its original architectural style. A traditional aedicule was added around the door to enhance the entrance. The shutters were replaced and copper chimney caps were added.
Archways between the family room and kitchen divide the space while improving the overall flow.  The wet bar was custom designed for this space, featuring custom H-L hinges and built-in appliances that match the home's style.
The main hallway is part of the 1960's modern addition that has now been remodeled to match the architectural style of the original house. The moldings and doors were replaced throughout, using proportions of the human scale to transform it into a light, comfortable space.
Before: Family room looking through the hall. The left wall would be traded for elegant arches that open up to the wet bar.
Redesigned for a lighter feel and more efficienct use, the kitchen features all new Sub-Zero & Wolf appliances, custom cabinetry and marble countertops.