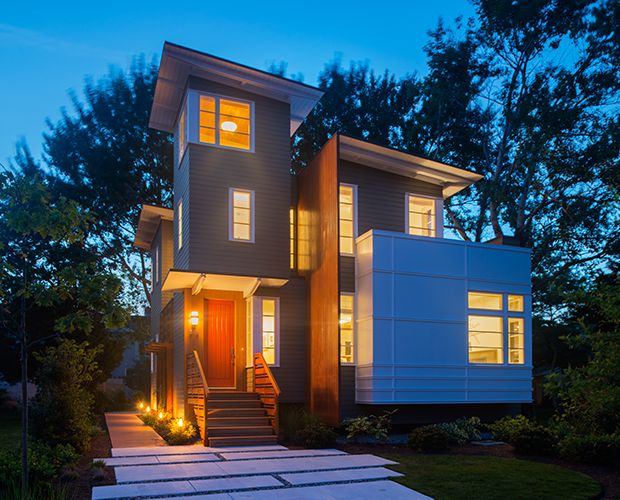 Ed Barnhart, Always By Design, Architect
M.A.W. Builders, Builder
Prospect House is located on a 50-ft. by 100-ft. midblock plot in Cape May Point, N.J., one of America's oldest seaside resorts. The purpose of this vacation home was to accommodate eight guests and eventual year-round retirement use-in less than 2100 sq. ft. Multiple goals are achieved within each aspect of the design, starting with the tower element. The belvedere tower alludes to turrets of earlier Queen Anne-style houses on Cape May Point and provides a treetop-level migratory-bird observatory while serving as a passive cooling chimney for the entire house. A vegetative "green" roof helps manage on-site storm water, harnesses solar radiation for photosynthesis, and gives second-floor bedrooms a garden view. Generous roof overhangs provide summer shading while also shielding open windows from rain, facilitating natural ventilation and daylighting. The materials on the exterior of the house were chosen as much for maintenance and durability as beauty. A variety of hand-selected, North American wood species were used throughout the house. The materials show off their own intrinsic beauty and also highlight the workmanship of local craftspeople.
Prospect House front at dusk
First floor wheelchair accessible shower