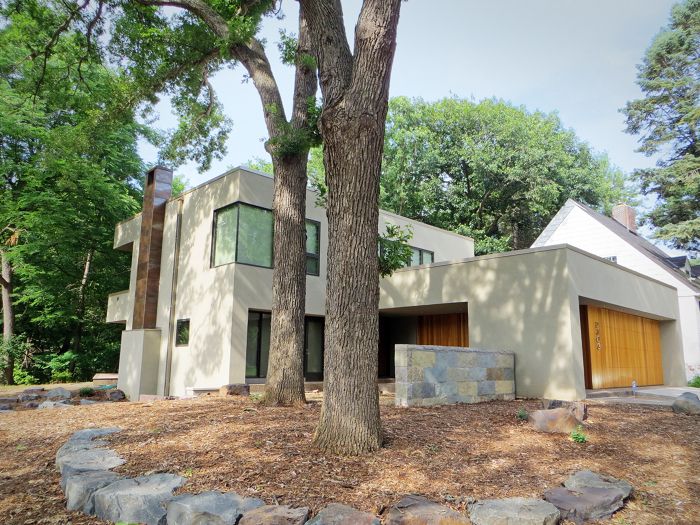 Conceived as an enclave for tenured faculty at the University of Minnesota, the University Grove is a veritable catalogue of architectural styles. Surrounded by the work of notable Minnesota architects from the last century-Lundie, Close, and Rapson among others- we had the privilege of designing the first new house in this prestigious neighborhood in over 25 years. Our goal was to create a house that embodies the zeitgeist of today just as clearly as the more senior University Grove homes reflect their own respective eras.
The incredible wooded site at the edge of this historic urban community demanded a restrained and reverent response. The clients desired a modern house that reflected their cosmopolitan tastes and international backgrounds.
Our design is a house that reveals itself through tightly-woven layers of increasingly private and overlapping programs.  Conceived as two forms, Entry Pavillion & Dwelling Cube, the two are interlocked. The garage occupies a wood box inserted under the Pavillion – its door completely integrated into the cedar siding which welcomes the visitor along its warm plane, past a forecourt and to the front entry. Screened from the street by a stone wall, and open to the woods beyond, the forecourt serves as a modern day porch – allowing visual privacy, while inviting use of the front yard as an outdoor room.
At the center of the dwelling is a vertical core of stone – the same as defines the entry. Rising from the lower level to the second floor skylights, this wall anchors the open and light-filled floor plates. It provides the backbone of the kitchen, which was conceived to be the nucleus of the living areas. Situated at the intersection of the living room, the dining room, and the family sitting area, the kitchen is restrained, yet functional. The island organizes and defines the adjacent living spaces; its placement affords panoramic views of the natural landscape beyond.
The house is about simple relationships; planes & surfaces, opacity & transparency, sightlines and their termini and the interactions between color & materials. The design is unequivocally modern, yet also warm and inviting. Quarter sawn, vertical grain teak and stainless steel harmonize with walnut and glass and leather-finished granite, blending together hard and soft, warm and cool, light and dark. Adjacent spaces partner in materiality to create more intimate settings.
Using simple forms, restrained materials, and a modern design vocabulary, the house draws on the rich heritage and tenets of historic modernism. It takes its place in this historic neighborhood as an innovative & sustainable home of today. 
Exterior - Entry Pavillion & Dwelling Cube
Entry - Living at right, Kitchen to left
Kitchen - Living Room beyond
2nd floor walkway - stone core at right