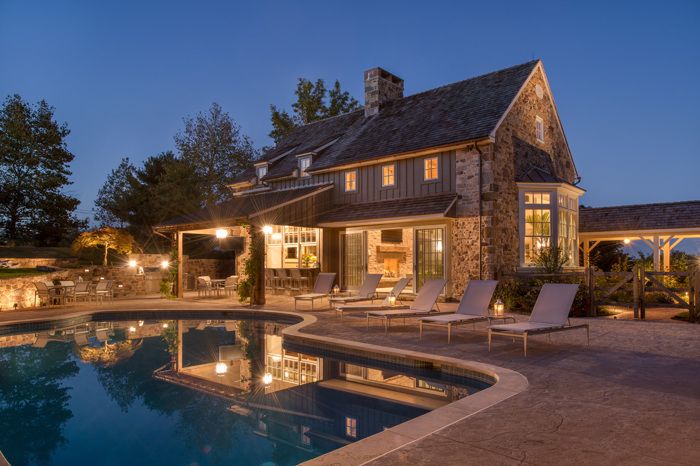 "Weatherfield" was built for a client with a passion for living well and playing hard. The new pool house with resort-like entertainment spaces will interest readers who love beautiful traditional design and optimal technological control.
The structure was designed to resemble a 19th Century Bucks County, Pennsylvania barn on the outside, with stone gable end walls and timber framing. But inside the 2,500 sf pool house is a thoroughly contemporary living and entertaining space, including beautifully crafted finishes and fixtures, and completely controlled via IPad. Overlooking the pool with automated misters and sculpted landscape, the pool house contains an indoor spa, timber framed loft, bar and grill, and is connected to the main residence by a covered walkway.
Beneath the residence and backyard lies a diamond mine of home entertainment. A two-lane bowling alley, bright and well-equipped game room, elegant custom home theatre and full scale bar surround a plush roundelay, creating the ultimate of entertaining experiences.
All spaces contains high quality audio, video and automation systems accessible from consoles throughout the property and through IPad.
View of the new pool house.
Interior of the pool house looking down from the loft to the spa and lounge area.
Lower Level renovation - added a new bowling alley
Before photo of the existing lower level of the existing residence prior to the remodel.
After photo of the newly remodeled lower level.