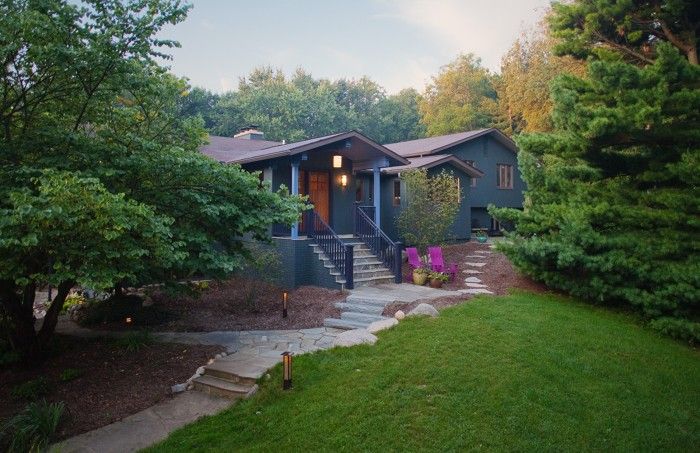 This 1960's era split-level home came with three delightfully wooded acres and an awkward floor plan. Our clients loved their close-to-the-city, country-like surroundings and beautiful outdoor surroundings, but the 60's style interiors had to go. 
Our homeowners' foremost problem was having to live with a main level floor plan that just didn't work: a master bedroom door opening to the foyer; an entry visitors had a hard time finding; and no powder room for their guests. The rooms on the main level were dark and lacked storage. Their kitchen was isolated from the rest of the house with an unworkable layout and unfriendly finishes. In short, this was far from the kind of bright, open, warm and comfortable home they longed to have and enjoy with friends and family.
The remodeling focused on the main living level of the home only adding a new mud room on the lower level and leaving the upper bedroom area untouched. In all, we added only about 200 square feet to the homes footprint. A more prominent entry and front porch was added to welcome visitors and an existing porch was enclosed as part of the new kitchen. Placing the entry adjacent to the living room not only made it easier for guests to find but also allowed for an effortless floor plan that performs equally well whether hosting a big dinner party or just relaxing with the family. Removing walls and capturing a pointless hallwayprovided space for a large kitchen and a master bedroom walk-in closet. Custom crafted built-ins added on each side of a large window in the living room provide storage and frame a cozy window seat. A built-in buffet below a bank of windows at the dining room handles linens and table ware. Large windows installed close to the ceiling allow natural light to reach deep into the interior while framing views of the wooded surroundings outside.
Taking cues from the existing Craftsman-like ceiling in the living and dinning rooms plenty of natural materials were used in the redo. Cherry cabinets with a natural finish and lightly stained cherry trim create a tapestry of warm wood hues.. Honed granite tops in the kitchen compliment the natural wood finishes. The island's granite couples with solid cherry and together they guide visitors toward the nook. The nook's custom table adjusts to coffee table height when entertaining friends, thus allowing the cook to stay in the conversational mix.
Exterior colors were chosen to compliment and harmonize with the home's surroundings.
View to "Before" dining room.
View to dining room. Built-in buffet below windows at the dining room handles linens and table ware.
View to living room.  Built-in cabinet beside window seat houses a TV behind sliding cabinet doors.
View to nook from kitchen.  Kitchen Island top is honed granite married with solid natural finish cherry. The gentle curve guides guests toward the Nook where the custom table lowers to coffee table height when entertaining