Big Brother Little Sister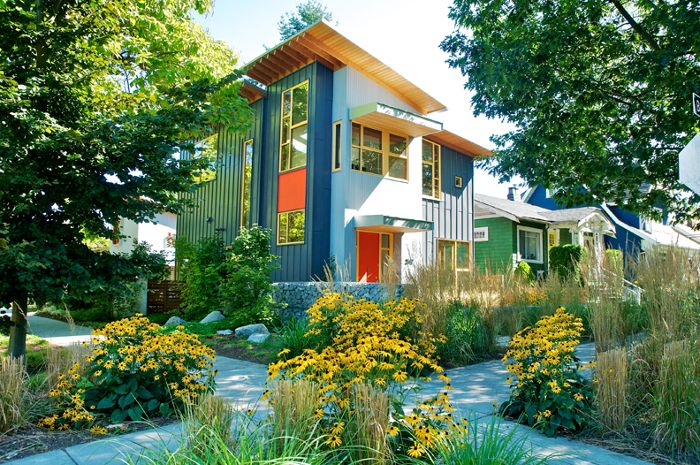 The project: The residences – fashioned for a couple of empty nesters whose youngest child inhabits the laneway home – demonstrate that eco density can be green, affordable and well designed.
Maximum energy efficiency has been achieved through high-grade insulation, passive heating and cooling methods are employed, and the home is certified Built-Green TM Platinum. Furthermore, the main house was built on a tight Vancouver area budget of $550,000, while the laneway house cost a mere $150,000 and the landscaping (also by the architect) only $30,000.
Challenge: Setting a modern house in a neighbourhood of traditional arts and crafts style homes, of pitched roofs, dormers and gables.
Solution: The modernist grey-blue dwellings accented with bright orange, red and yellow bring a new modernist aesthetic to traditional ideas about what a single family neighbourhood can look like. Part urban cabin, part neighbourhood intervention, the 1,600-square-foot house and 400-square-foot laneway home, are intended to read like residential installation art.
Challenge: Many modern homes in Vancouver, are built like fortresses – completely cut off from the outside world.
Solution: We saw the corner lot project as a "gift of a site," which celebrates the street with its ground oriented design.
Challenge: While the City of Vancouver touts itself as the greenest city in the world it is gun shy when it comes to water conservation.
Solution: The designer, successfully lobbied city hall to rewrite a bylaw that discouraged rainwater harvesting.
View from the intersection
The laneway house from the courtyard
The main house's really cool "boxed window".
Thermal mass wall for natural cooling.