EarthCraft Certified Lake Home – Net Zero – Ventanas al Cielo (Windows to Heaven)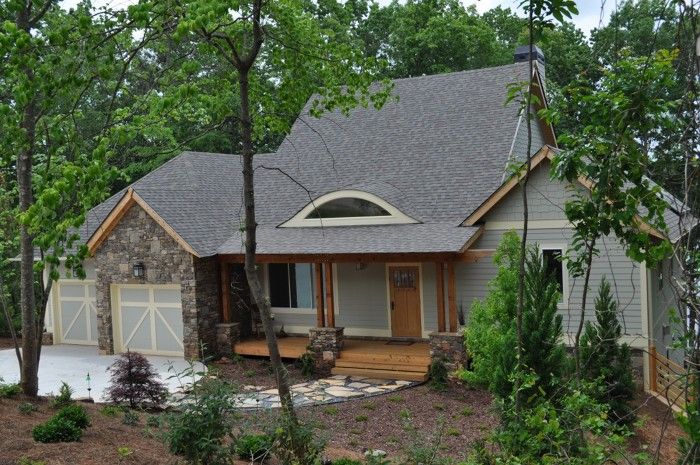 I always wanted to build a home, but as you are about to see not just any type of home. On October 23, 2006,my wife and I committed to making that dream a reality and bought a 0.34 acre lot on Lake Lanier, Georgia. I am sure you heard about the drought on Lake Lanier, but we always had plenty of water – especially now with all the rain this season.
Finally after SEVEN years, and volumes of concept and design drawings, the house is finished. OK we were a little slow to start; let's just say that we were deliberate. So what is so special about this home? Besides the fact that lake living is quite special, as you will see this is not just any home. Our goal from the outset was to build an EarthCraft Certified Home (www.earthcraft.org).
Developed in 1999 by the Greater Atlanta Home Builders Association and Southface, EarthCraft is the Southeast's standard for green building. Since 1978, Southface (www.southface.org) has worked with the construction industry to promote sustainable homes, workplaces and communities. We have applied for two OBIE Awards from the GA Homebuilder's Association (Best Green Home and EarthCraft Home).
The result as we hope you will agree is an exquisitely designed "Staycation" home (yes there is such a definition – http://en.wikipedia.org/wiki/Staycation) that is on the cutting edge for green home development. Below is our website where you can see some of the features of our home, Ventanas al Cielo (Windows to the Heaven), links to our development team, materials that we selected and progress as we were under construction. The next stage that we are working on is to set up an internet monitoring site so we can see (and show others) how effective our EarthCraft certified home is in helping reduce our energy costs, carbon footprint and help save the planet, but as it looks now we are a ZEB (zero energy building) – Net Zero on electric utility costs.
Our incremental after tax return on investment is proforma at 25%.
Features include:
>Advanced Framing using 2 by 6 studs instead of 2 by 4 and 2 by 10 rafters instead of 2 by 6 – allowing us to increase our insulation by 33 to 50%
>Icynene open cell insulation in the main attic – it stays at a relatively constant 75 degrees – not 140 as it occurs in vented attics
>Pro Pink Blown Insulation in walls
>33 Photovoltaic Panels producing approximately 13,500 kWh per annum >80 gallon closed loop Drainback Solar Domestic Hot Water
>20 kWh emergency generator – propane fueled >Fireplaces – propane energy efficient
>Control4 home management and security system with remote camera / DVR recording
>Control4 audio a video system – 8 independent audio and 4 independent video zones
>EGauge and Eragy utility management system
>Concrete / fly ash exterior siding (not concrete / silica)
>High grade reflective double pain argon filled windows
>75% CFL and 25% LED lights – no incandescent lights
>Low / No VOC materials >Dual flush toilets – low flow water fixtures
>Bryant 4 ton Variable Modulating Heat Pump with three electronic damper controlled zones
The website for the home is www.sustainablelakehome.com
33 PV (24 south side - 9 west side) panels 2 SDHW panels (south side)
Zip Systems Exterior Siding