Lakeside Living is All in the Family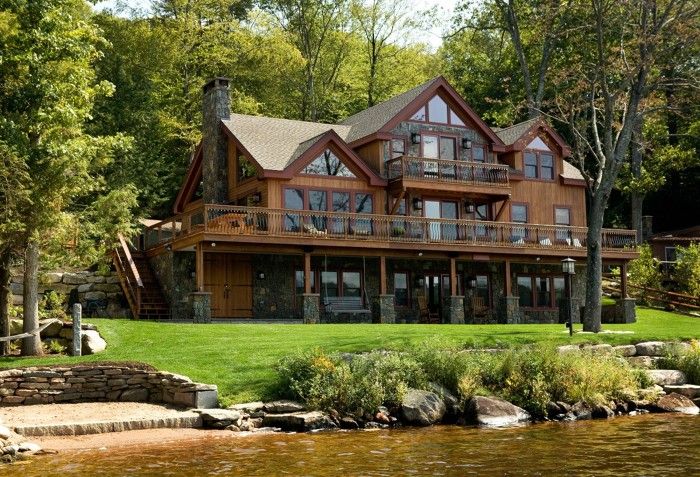 Updating a small, 1950s seasonal lakeside camp turned out to be impractical for our clients, who enjoy accommodating multiple generations for year-round getaways. A tear-down and re-build was the most practical option on the half-acre site on Shutesbury's Lake Wyola, and sensitivity to the character of the surroundings on the modest lake was one of the main considerations. The original camp was about 1500 s.f. and had a flat roof. In keeping within the footprint, the main level of the new home and the walk-out basement level below are approximately 1500 sq. ft. each. Although three rooms are currently used as bedrooms, there are multi-use rooms and lofts than can accommodate even more overnight guests. The walk-out basement level separates the media area from the main house, and offers an easy-to-access bathroom and game room, as well as a space for utilities and other lakeside necessities such as a utility sink and freezer for preparing and storing the day's catch. The master bedroom suite is privately located on the top level, with balcony access to the lake view from the hallway/loft. Although the home has an open floor plan and feels welcoming throughout, there is plenty of private space for activities for grandparents, parents, children and guests. When the landscaping was complete, the home tucked into the shoreline as though it had always been there.  
The west (lake) side elevation of the custom lake house in Shutesbury, MA, that replaced a beloved old family camp.  The entire family shared in the design of the Habitat Post & Beam home, as well as with much of the finish and landscaping.  A walkout basement provides easy access to ground-level amenities, and the lawn is a soft transition to the garden and stonescaped sandy boat area.
Our Beamed Roof System is featured in several spaces including the Living, Dining and Loft areas.  Our timbers are #1 grade Douglas fir from a third-generation, family-owned mill, and the owners opted for Douglas fir tongue and groove planks for the decking.
The upper level master bedroom shares the same Beamed Roof System as the main living area.  The bed and bench combination was built from locally harvested mountain laurel, birch and pine by a local woodworker, and is complemented by a vintage family heirloom bed coverlet.
Windows to the south and west take advantage of the sunset over the lake. An open kitchen looks out toward the dry-stacked granite fireplace.  In keeping with the appreciation of their surroundings, the dining table was fashioned from pine harvested from the property.
Wood and stone combine beautifully in the sunken patio area of the lower level.  The family is in the landscape product supply business, so environmentally friendly, high-quality hardscaping material was chosen with an eye for quality, and it used throughout the interior and exterior of the home.