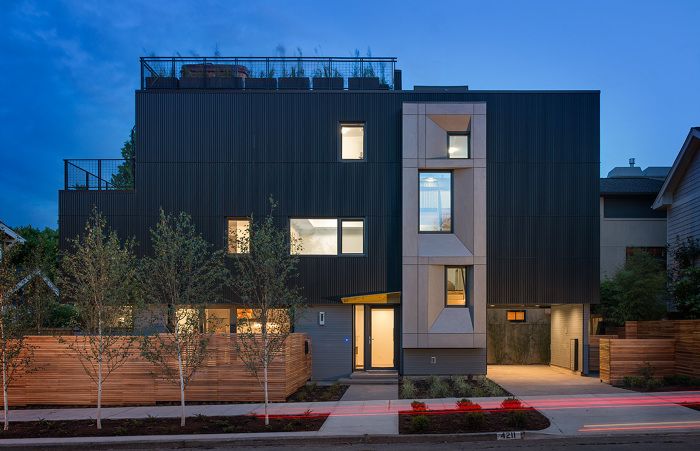 Park Passive is one of Washington State's most energy efficient homes, and Seattle's first certified Passive House. The 2,710 sq ft home on a 2,000 sq ft infill lot uses 90% less energy to heat and cool the home, and maintains an average indoor air temperature of 70-degrees.
Park Passive's lot created major challenges for the designers and builder: a shallow floor plate; its zoning envelope that required everyone to work with the form of the existing house; and passive house requirements that minimized glazing on the north side of the house, where windows would have been intuitively placed and required 18″ thick walls. 
The challenges were addressed by emphasizing the vertical space and playing with wall thickness on the front façade. This led to interesting special surprises, such as the double-height vaulted kitchen space that visually connects the main living area to the upstairs kids play area; a day-lit open stair punctuated with views to the street and a carved out nook for a window bench; and several large skylights. The design also widened the floor plate and addressed the lack of a back yard by creating a strong tie to the front yard using a large lift-slide door and expansive glazing.  Existing site trees removed due to the lot size were salvaged for stair treads, wall paneling, and a live-edge bathroom counter top, creating warmth and a contrast to the white walls.