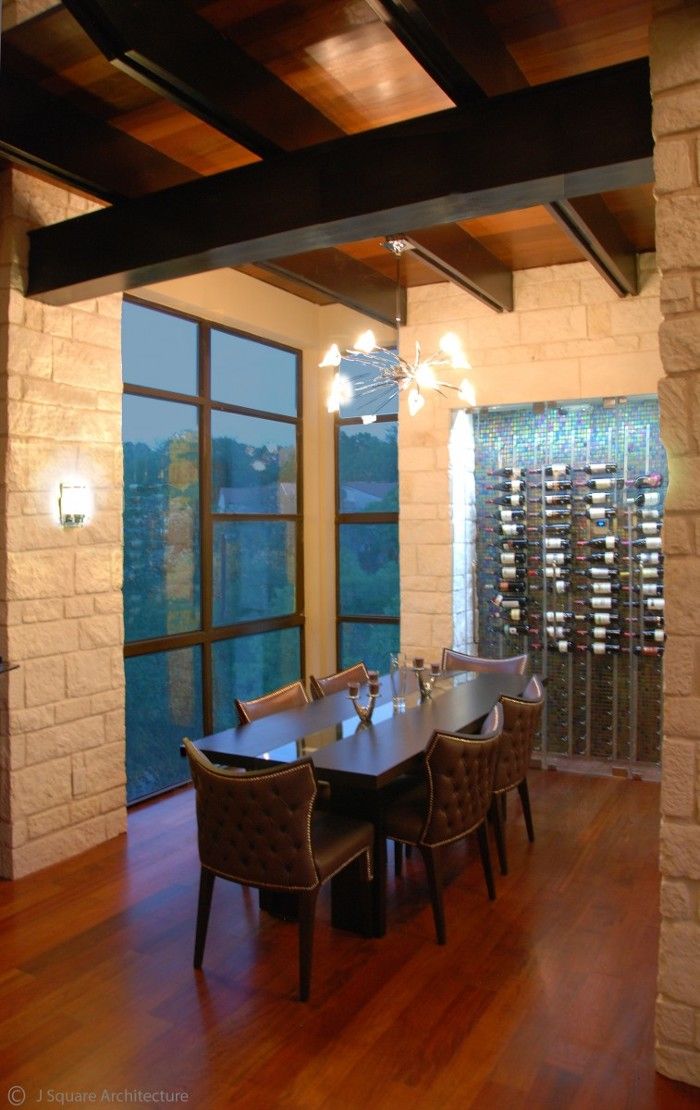 Due to the lot presenting many challenges it was undesirable and sat empty for many years. Situated at the end of a cul-de-sac, the pie shaped lot with small frontage slopes quickly down to the adjacent street.   The challenge for us was to create a home that found the strengths of the site and allowed it to enhance the design and overcome its inadequacies. The new home situates a garage closer to the cul-de-sac and pulls the main mass of the home away from the slope. This frees the structure from the steep slopes, does away with problematic retaining walls against conditioned space, brings light in from all sides, and allows the creation of a unique private garden with xeriscape plants there and around the property. Main entry to the home is via a wood and steel foot bridge over the garden which adds to the entry sequence drama. The design of the home continues this drama on the private side with decks and porches that look out to the hill country and down to the pool and lower deck area. Areas for entertainment that break the interior / exterior barrier are in abundance with large windows, sliding glass doors, and a covered outdoor living room with a fireplace that allows year round enjoyment around the pool and hot tub. Large roof overhangs helps to shade windows and porches from the Texas sun. Inside, the home is dramatic with vaulted ceilings and a material composition of wood, steel, stone, and glass. With the owner being a talented interior designer, the home is cozy with designer and personal touches.
Underneath the office loft, a unique dining experience is created with exposed structural wood beams and a custom wine cooler integrated into the stone wall. Floor to ceiling windows enhance the experience by immersing the space into the landscape.
The rear of this Austin home opens up to expansive hill country views. It is centered around an outdoor oasis with terracing pools and covered living. The relationships between the indoor and outdoor spaces are blurred by utilizing expansive decks and large glass walls linked together with locally sourced stone.
Faced with the challenges of a difficult site, the designers took advantage of the steep slope by separating the home from the slope, and sinking the private levels below. The main entry becomes a dramatic procession across the wood and steel foot bridge with views down to the created private open spaces of courtyards and gardens.
Toward the back of the home, walls of windows and strategically placed wood decks integrate indoor and outdoor spaces. The pool / hot tub rear terrace is the main centerpiece while the large roof overhangs and solar orientation help to shade the space from the Texas sun. 
A pool side outdoor living space encompassed in the luscious vegetation is usable year-round. It provides a quiet, calming privacy, yet offers exquisite entertainment opportunities.