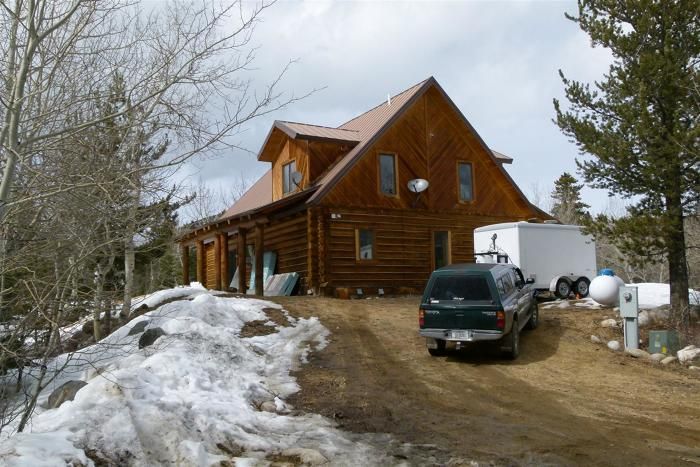 A log cabin in the on the creek gets a new life with a tadtional rustic yet modern 21st century update and additon. Traditional materials such as wood, stone, steel and concrete are used in rather contemporary ways to create a project that spans the gap between indoors and outdoors and from rustic to modern with fine attention to detail.  
A complete interior gut, original cabin had no formal entry, you were forced right into the dining or living rooms with existing entry door.  The client also had needs for an expansion to make the 3BR cabin a 5BR family get away.  To solve these problems, in the new addition is the formal entry/mud room with built benches an cubbbies and closet using the same cedar wood as on the exterior gables.  That cedar wood is also used as a wainscot at the stairs an upper level hall area. The main/mud level of the new additon also houses the mechanical room, powder room and master bathroom.  Above on the 2nd floor the space has two dormers one on each side and is a massive bunk room with 2 Queen Bunk beds and 1 Full Bunk bed.  The addition also enclosed half of the original large valuted great room / dining that was orginally all open, in that space on the second floor is new bathroom and bedroom.  On the exterior is a wrap around porch with an entry that invites you in and is capped at the other end by the large covered outdoor gable space that faces the mountain valley views.  
Original photo of cabin when I (designer) first saw it.
Photo of cabin exterior after with LED accent lighting and you can see the original gable dormer between the new shed dormers for reference.  
Photo of finished interior showing new open great room, river rock fireplace and dining room, now with bedroom above.
A photo of the finished Entry/Mud room with its built-ins, custom railing and custom entry door.  It also has transom windows to let in good light and let the window heads match those on the main level. 
Photo of new entry porch with custom entry door and lighting design.