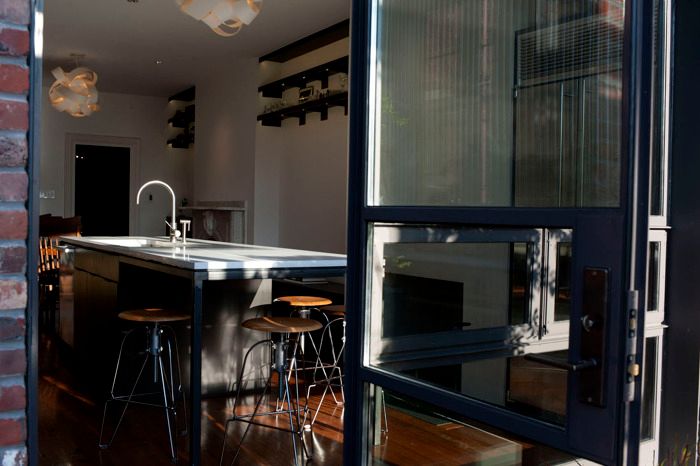 Situated in Pittsburgh's historic Mexican War Streets neighborhood, this project was an opportunity to reinvision and recreate a narrow, century old rowhouse. The renovation was limited to the kitchen and dining room at the rear of the old house. The goal was to create a new modern kitchen and living space for the family that would be a significant change from the small, dark existing rooms of the rowhouse.
To do so, a wall was removed between the original kitchen and dining rooms with new structure added to enable this change. The rear wall of the house was opened up to allow the interior space to extend outside to a new raised deck that overlooks the small, private garden space between the house and the alley garage. The opening to the deck is created with a new custom steel window system which opens out onto an "ipe" wood deck with custom, built-in seating and steel trellis enclosure. The new opening and trellis visually extend the kitchen living space outside, allowing this narrow 14-foot wide house to feel bigger than it is.
Existing wood flooring was patched and refinished allowing for a rustic contrast to the new modern cabinetry and white concrete countertops. The Kitchen cabinetry is limited to only base cabinets to afford a much more open, spacious feel to the room. The existing marble fireplace is retained in the family room and a new sleek gas fireplace replaces an old fireplace in the kitchen area.
This view is from the deck into the kitchen through steel and glass doors that invite the urban setting outside into the now open, naturally lit kitchen.
A better look at the new kitchen island, modern light fixture and how the kitchen is integrated with the outdoor space are seen here.
This is a detail of the counter top and industrial stools.
This is a view standing on the deck looking into the new kitchen.