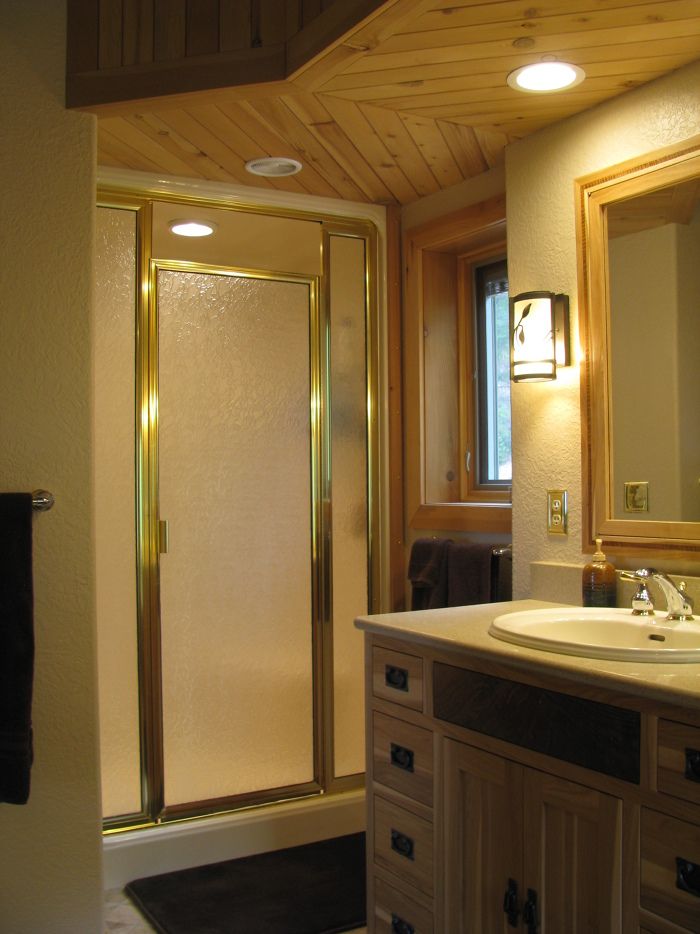 This is the master bath in our owner-built off-grid home, which has consumed us for the past 20 years and is still in progress.  The goals were energy and water efficiency and a highly insulated building envelope.  There are four species of wood that make up the interior, keeping in harmony with our forested property.
The 48" shower stall is a vacuum molded acrylic unit chosen for it's low maintenance and reliability.
The vanity was custom built to our designand is primarily made of hickory but we supplied the black walnut panel in front of the sink. The medicine cabinet was built by us and has an inlay of the same black walnut.
 The corner spa tub was installed with a tempered glass view window on one side and a built in cubbyhole on the other that has a live edge shelf of the same black walnut.
A ADA heighth 1.28 gpf Toto toilet and a built in shadow box above it featuring family memorobilia.
The dropped cedar ceiling contains 6 can lights and 2 vent intakes. The cedar was purchased rough sawn and milled with t&g by ourselves.