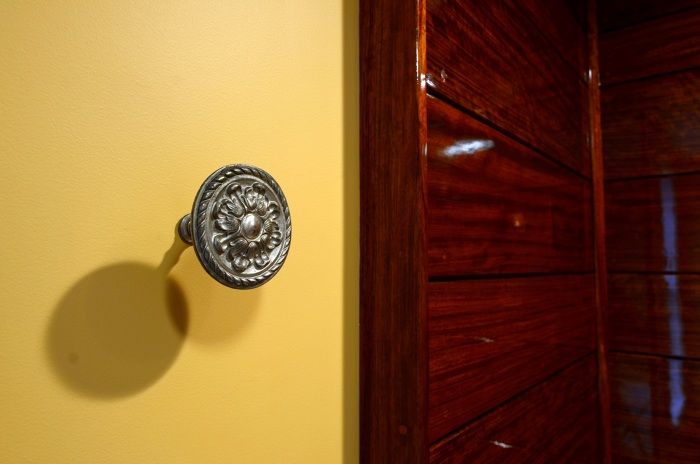 Picus Woodwrights recently completed renovating a small, full bathroom on the second floor of a historic farmhouse in southern Rhode Island. The homeowners did not want to expand the footprint of the bathroom and as it is located above a formal dining room. As the plumbing locations offered few options for changing the layout we needed to rethink the space without completely changing the fixture locations. The homeowners work keeps them traveling extensively and they have collected antiques from all over the world. They wanted the new bathroom to reflect their eclectic and diverse taste and to harmonize with the rest of the house while incorporating a few creative design decisions which demonstrate a high level of craftsmanship.
The solution we came up with for the bathtub and shower was to install a stock tub base in the same location as the old one beneath a wooden shower surround which we designed and built. Additionally we, repurposed a small antique Chinese dresser which the homeowners had acquired as a base for a vessel sink.
 
The lead carpenter on this project had many years of experience in the wooden boat restoration world prior to moving in to the world of remodeling. We drew upon his experience and designed the shower surround around a polyester fabric shell bedded in marine epoxy. We then installed composite sleepers to create an air space and offer a fastening location for the wood. We chose Bubinga for the surround for its beauty and resistance to rot. The boards were half lapped and finished on all faces with a high gloss marine varnish. All end grain was also sealed with marine epoxy.
We reused old curtain ties as towel holders.
We used a small antique Chinese dresser as a base for a basin sink. We modified the drawers to accommodate the drain and mounted the faucet to the side of the sink.
The finished Bubinga shower and tub surround installed over a stock tub base.
We layed out the Bubinga so the faucets and mixing valve locations would all fall within the width of a single board.