Farmhouse Kitchen with a Future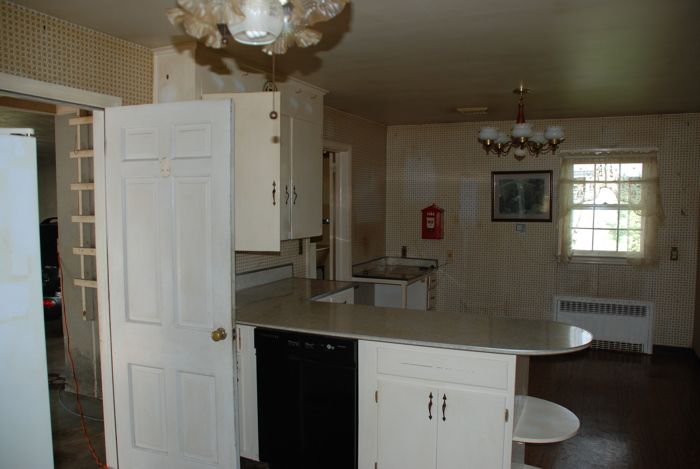 The owners wanted a farmhouse-style kitchen that was not only beautiful and functional for today, but that would also accomodate their own aging-in-place as well as facilitate a group home arrangement for their special needs teenager.  The original kitchen was poorly designed, located in the front of the house, and was in very bad shape with extensive nicotine damage and non-working appliances.  The beautiful view of the mountains was all but ignored with small windows and the original chopped-up floor plan that is typical of 1950's cape cod homes.  A direct entrance from the garage was awkward and unsafe.  A new rear wall 48″ out was added and custom steel was installed in several locations in order to remove walls, reinforce sagging joists, and open up the entire space.  A second set of basement steps and a very awkward rear-facing laundry with a low rooflines were completely redesigned. The owners' request for the largest rear windows possible was accomplsihed using custom steel and a low backsplash.  The new kitchen features a palette of creamy yellow and peppercorn gray with painted cabinets, contrasting granite countertops, and a large island.  It also accomodates multiple cooks and includes features such as wide aisles for a wheelchair, deep drawers, single pulls, layered lighting, and flexible adjoining areas that will serve the owners and their daughter for years to come.  This truly is a Farmhouse Kitchen with a Future.
Standing in the Before Kitchen looking toward the rear of the house: Shows the door directly from Garage, awkward peninsula, and rear entrance to Laundry.  In addition to the nicotine damage, there were mold issues from plumbing leaks.  The dishwasher, located multiple steps from the main sink, was obviously added when this peninsula was built.  
Before looking from Kitchen toward adjoining First Floor Bedroom.  Note the nicotine damage and awkward location of a bedroom adjacent to the Kitchen. The rear-facing Bedroom also obscured the beautiful mountain views.
Farmhouse Kitchen with a Future:  The new spacious kitchen now showcases the beautiful view of the mountains and fields.  It also accomodates multiple cooks and family and friends who gather around the island.
A new doorway to the Dining Room facilitates traffic flow and entertaining a large number of friends and family.  The open floor plan and well-placed appliances mean food preparation can continue while people do what they always do - inevitably gather in the kitchen!
The former rear-facing Bedroom is now a beautiful Kitchen with well-placed sightlines that bring even more light into the room.