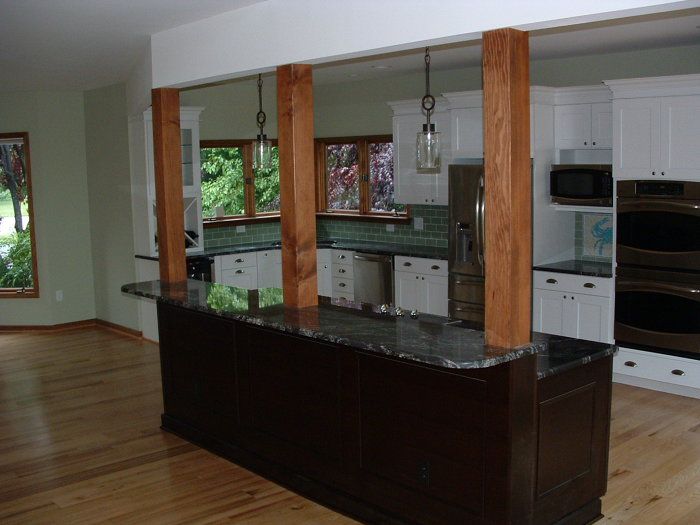 Our customer had recently purchased this beautiful home on the water.  The home comes with a great view from most of the house, but not the kitchen.  They wanted us to take out a couple of load-bearing inside walls to open up and brighten the kitchen and capture the view.  First we did lots of measurements, made a few exploratory openings and made some preliminary drawings.  When we knew what direction we were heading we consulted with a structural engineer to make sure that it was feasible.  As soon as we were confidant that it could be done, we bought in the kitchen designer.  We had a plan that looked good but had to be tweaked a few times to allow for support columns and wall placements.  We did run into a few problems during the project that we dealt with as they arose.  Most of the first floor had a oak floor, the foyer and hall had ceramic tile and the kitchen had laminate.  The ceramic and laminate floors were removed and hardwood installed, then whole floor was refinished.
Looking from great-room into kitchen where load-bearing walls were located.
Kitchen photo taken from dining room
View from kitchen looking across the dark cherry island cabinets into the great room.
Looking across the kitchen from the end of island
Showing end of island and view of kitchen and great room