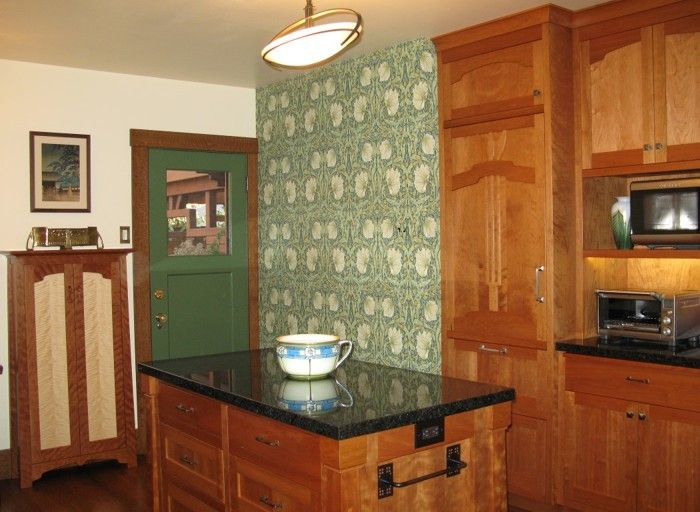 We started off with an historic kitchen from the 1920's that was dysfunctional. There was not enough counter or storage space and no modern amenities like a dishwasher, disposal or a stove vent hood. The refrigerator blocked the back door and there was no task lighting.
We demolished the lathe and plaster, cabinets and floor, tore out an arch and completely redesigned the floor plan to make it more functional. The design of the floor plan was difficult because of the small 16′ x20′ footprint. To solve the design problems we used mock-ups and SketchUp to optimize the island dimensions allowing us to add an area for a desk without compromising the walkways. We installed a smaller, counter depth refrigerator which solved the problem of blocking the back door and allowed us to make better use of wall space. Plumbing and electrical were upgraded to accommodate task lighting and new appliances. Finally, we removed a soffit to make room for venting above the stove and gain more cabinet space.  
Overview showing the custom wood refridgerator panel and Morris wallpaper.
Overview Tasklight lighting under counters Art glass light valence Restored Wedgewood stove  
Overview of the funiture style pantry and wood slab desk. 
Detail of sink wall cabinets. Integrated diswasher panel trash slide out wall mount faucet tile details
Overview of island showing furniture style pantry cabinet and desk area.