Master Bathroom Artistic Remodel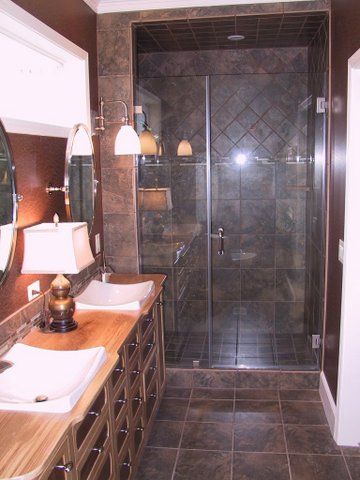 Philip's Woodworks successfully completed a challenging renovation to a long, narrow, Pullman-styled, Master bathroom. The owners wanted a more functional and esthetically pleasing Master Bathroom and were unsure how to address the difficulties the existing bathroom presented. The owners are great supporters of the arts. In fact, John is a painter and Joanna has a sharp eye for design. They both have a deep appreciation for designs of natural beauty in wood and had previously commissioned Philip to create their unique dining room table.
Challenges:
Enlarging the 5′ x 15′ space was not an option so one challenge was how to maximize the existing space.  The door from the Master bedroom opened into the bathroom making it impossible to move from one end of the room to the other without the door being completely opened or closed.  Swinging the door into the bedroom was not a viable alternative. The vanity was the standard 24″ deep, also making it difficult to maneuver in the room. Lighting was another issue, as the room was dark with no windows. The owners struggled with preventing mold from forming in the small, dark shower. The size issue was due to an overlarge chase for the plumbing. Storage was another problem in the existing vanity, with standard cabinets and drawers that were not suitable for small toiletries.
Solutions:
Philip solved the door issue by making it a pocket door. He needed to be careful not to disturb the Master bedroom walls, as the owners would not be able to match the painted string cloth on those walls. More space was created by designing the new vanity at 18″ wide with bump outs for the sinks. The lighting issue was addressed by incorporating an etched, horizontal window above the vanity-the only possible location for a window. Recessed lighting also was added above the tub. The shower was enlarged by cutting down the plumbing chase. More light was added by replacing the solid shower wall enclosure with glass. Philip created efficient and usable storage in the vanity by including 16 drawers of varied sizes. The angled the ceiling above the tub created both visual appeal and reduced the length of the room. Philip also added softness and warmth to the room by crafting the vanity out of white oak and walnut. The result is indeed a functional and esthetically pleasing Master bathroom.