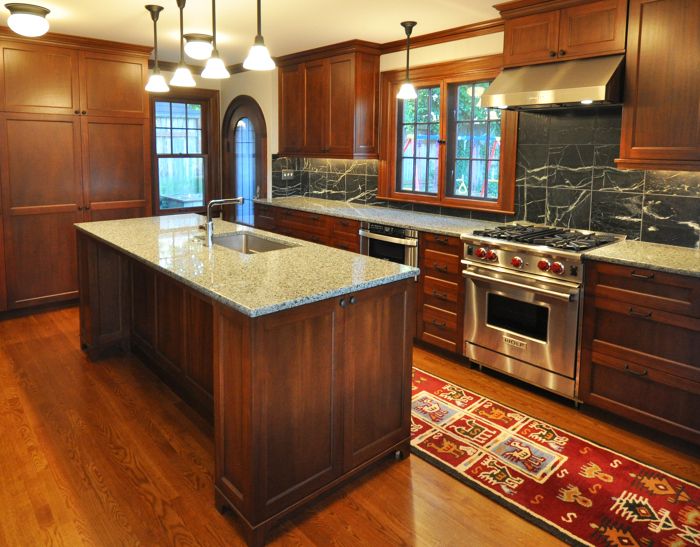 This new kitchen in an early 1900s brick Tudor took the place of a warren of small existing spaces, including the kitchen, a breakfast nook, a bath, and hall. We combined and reconfigured these spaces to provide a generous kitchen for a family that likes to cook. 
The kitchen has a substantial island with a bookshelf on one end and a shallow cabinet at the other that stores kid-ware within easy reach of their young daughter. It has space for three stools for family meals and houses the main sink, dishwasher and trash compactor. Outlets on plug-mold are tucked underneath the counter edge for easy access. Finishes include mahogany cabinetry which matches the existing mahogany trim throughout the house, granite counters, limestone backsplash and oak floors. The new windows are made by Cherry Creek, a local company that makes a code compliant window as close in look to an early 1900s windows as possible. The arched back entry door was rebuilt in Mahogany by a local door company.
There was much discussion about the separation between the kitchen and dining room. Traditionally houses of this era had well defined spaces for these functions, often separated by a door. But the clients wanted a more open feel to these areas. We solved the problem with an arched opening that leaves the dining room open to the kitchen but provides some formal separation. This arch was built on an angle to maximize the kitchen space, but in design matches the existing Tudor arches in the house.
This kitchen remodel is the second phase of a three-phase remodeling project. The first-phase was an upstairs remodel of master bedroom and bath, during which we set up the infrastructure for the second-phase main floor remodel, which includes the kitchen, as well as a future third-phase basement remodel. This meant master planning for modifications to the structural, mechanical and electrical systems for the kitchen and basement while we were working on the upstairs.
View of kitchen island and main cabinetry with granite countertops and limestone tile backsplash.
The kitchen island conceals a bookshelf at one end and houses a trash compactor, main sink and dishwasher.
New windows line the counter with mahogany cabinetry, range and drawer-style microwave.
A new arched kitchen opening as seen through dining room.
The refrigerator is tucked into a corner and tall pantry and utility cabinets line the back wall.