Pop Art Inspired Kitchen Remodel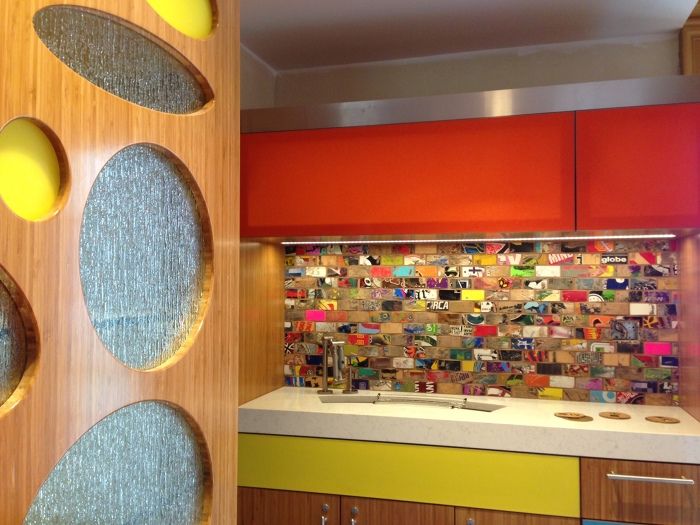 Pop Art emerged in the mid 1950's- characterized by the use of common and familiar subjects. It created an art that sought to relate to the public on a familiar level, injecting irony and humor. The remodel of this Pop Art inspired kitchen coupled the natural carmel color of the bamboo casework with flashes of bold color (red, yellow, blue, and silver) peppered throughout the space. The updated convinces, contemporary lines, and expanded functionality support the irony, wit, and familiarity of the space.
  Wet bar featuring Aventos lift hardware on the 3Form Chroma paneled cabinetry above the under-mount trough sink, with a repurposed skateboard tiled mosaic backsplash. 
  The serving area in the foreground features a pass through China cabinet with tambor door. Appliance panels conceal the dishwasher. commercial appliances in the background include a pizza oven and cabinet. The adjustable height table at the end of the island uniquely accommodates a growing family. 
  Perspective view of the kitchen.
  Central island with eat in bar and cook prep with slidable custom bamboo cutting boards. Storage cabinetry features 3form Chorma with bamboo casework.
  Bamboo casework with light up countertops.