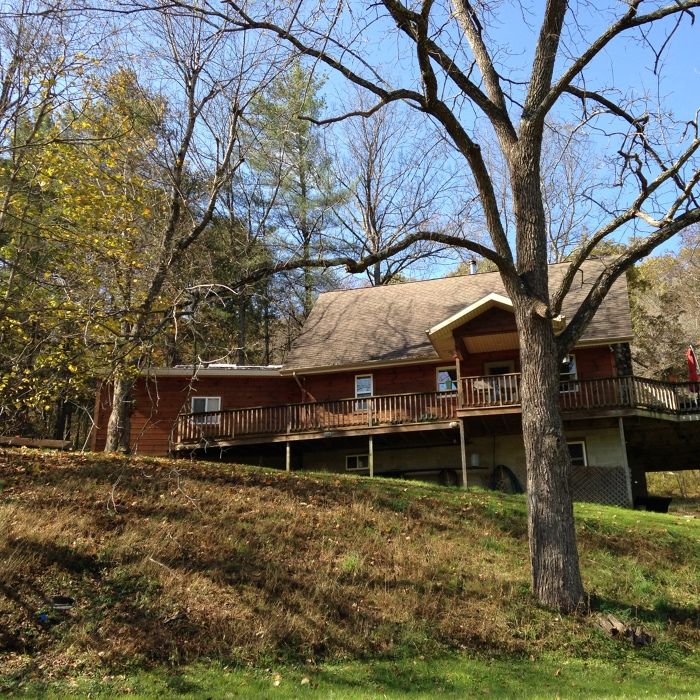 First and foremost the plans for this beautiful country home were already in the build stage when i met my husband. While the "man shower" was fabulous and a hot tub was added to the deck, I still missed a bathtub. The house in the city, nor the country had an effective soaking tub.
When a tree struck our house and punctured the roof, we asked ourselves if this was the perfect time to expand the upstairs foot print and add a Shed Dormer, along with the full roof reshingling and addition of a skylight. We went for it. Afterall, we had recently completed the stand alone Sauna building, on the ravine, and we built that one board by board, all by ourselves – didn't we need more sawdust and construction in our lives?!!
We connected with local roofers and builders and gave back to the local economy by hiring the job out. We completed all finishes and my husband built the sink cabinet for the bathroom and will be building the cabinet over the comode, (he's a trained craftsman).
Project launched and wrapped in about eight weeks. We had all finishes in and ready for our 2013 Holiday company. The boys are usually involved in some aspect of our construction or rehab projects, but they saw the finished product and didn't have to lift a finger. That was a fun surprise and pretty exciting – they do have their own lives these days.
Added a 10'x15′ Shed Dormer to the upstairs living space.
We added a 2'x15′ canteliever to extend the floor over the deck/kitchen.
The full bath upstairs is all custom, including a corner bathtub/shower for maximizing use of space (a deep, soaking tub).
In addition to a full bath upstairs (had a 1/2 bath), we added square footage to one of the bed rooms, added a closet and additional living space in the loft area. It's pretty fantastic and truly beautiful. All natural wood, of course, even the flooring. 
We extensively reused existing materials from the demolition and left over flooring from the original house build. For efficiencies, we used a pocket door for the bathroom.
Four windows were added in the overall addition, including one octagon window w/ screen.
The entire upstairs and the loft space is transformed and we are more "guest ready" than ever. The bathroom is a tastefull and gorgeous hangout. 
Of course, the two of us thoroughly enjoyed a project that wrapped so quickly (with a lot of sweat equity), and I'm pleased to walk into a home that is once again, clean and debris free.
Lisa Price and Steven Hill
Pre-dormer construction house view
Roofers and and construction crew on site - sharing tools and solving problems
Reinforced kitchen beams to support the new 2' cantellever
Hand made finished cabinet and sink
House, post dormer installation