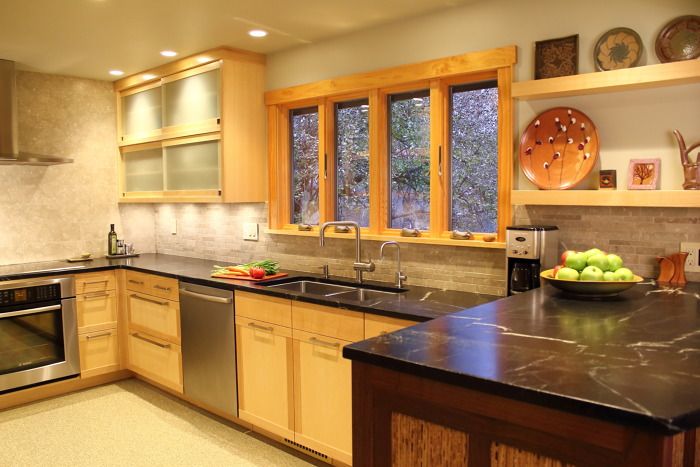 We've lived in our home for nearly two decades, and despite the fact that we knew from day one that the kitchen needed to be remodeled, it was put off repeatedly. The kitchen, a small "Eat In" style, was original to our 50 year old Ranch. One of the exterior walls of the kitchen was removed during a previous addition project which added a new dining room among other things, but otherwise, the old kitchen remained untouched. At the very least, we needed to replace the old appliances and increase the counter space. 
 My wife is an architectural designer and I am a furniture designer/ cabinetmaker. Over the years, we've seen many innovative ideas for kitchen designs. Here's some of what we did in our kitchen.
created a design which fits in with Japanese inspired theme of our home
salvaged and combined two existing windows to create one with expanded view of backyard
NO CORNER CABINETS!… by omitting them,the adjacent cabinets become more functional, especially in a small kitchen
wall cabinets have double by-pass doors, increases functionality, everyday items in lower section…plus, it reminds wife of parents home in Japan…
raised peninsula creates transition between kitchen and dining room
By custom building the cabinets, we were able to maximize the available space, plus I was able to incorporate some of the details that I often use in my furniture designs.The resulting design has a pronounced horizontality, accentuated by the design of the cabinet fronts, which makes the room feel bigger even though there is more cabinetry. 
New layout provides more counter space & a better work triangle. Enlarged window lets in more natural light.
The cooking area is free of wall cabinets. The hood, limestone tile backsplash, soapstone countertops and induction cooktop are hard surfaces that make for easy clean up.
Built-in refrigerator and pantry cabinet.
Wall cabinets are placed adjacent to the cooking area, with sliding doors that can remain open and out of the way, which is an added convenience during food preparation. I created the by-pass door handles from square aluminum tubing and walnut.
In lieu of another wall cabinet, floating shelves above the peninsula provide transition from kitchen to dining room. Microwave is tucked conveniently out of the way in the kitchen side of the peninsula.