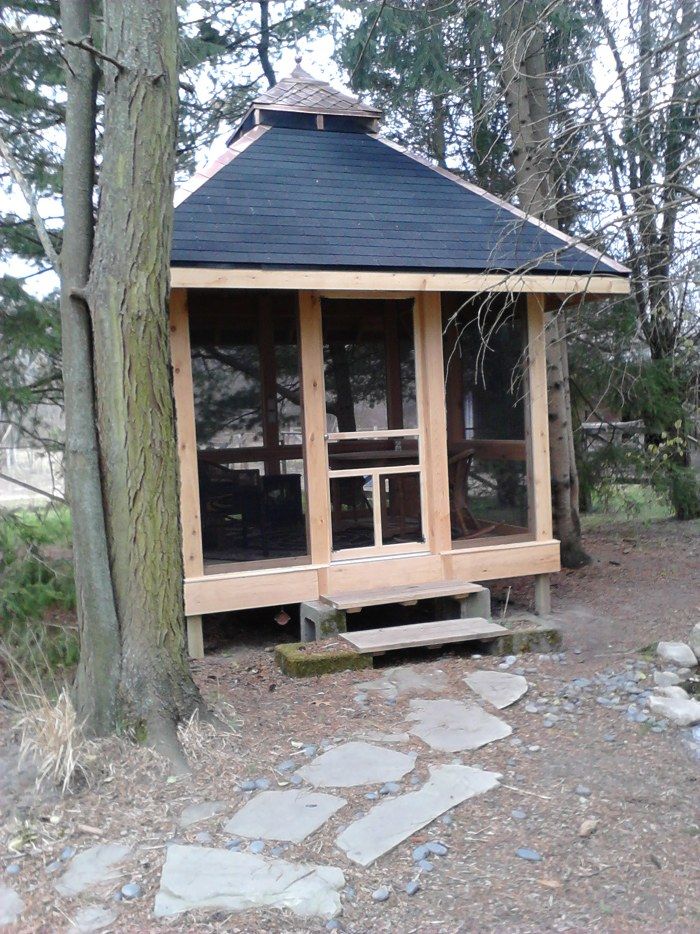 Twenty-five years ago, while running underground wiring for a barn, I ran out of wire next to the goldfish pond.  I brought the wire to the surface, installed an outdoor outlet, and then continued the run from there, thinking some day I'd like to build a gazebo there.
A couple of years ago, I finally eeked out the time to start the job.  As the goldfish pond acts as the termination for the house's basement sump, in the spring, flooding is all but guaranteed and stilts are necessary.  This also leavesa cool area underneath for the dogs in summer.  
I chose to run screen the entire height of the walls, so I put a cedar railing around three sides.  I built the roof with a vent opening at the peak, and topped it off with copper shingles I cut and bent myself.  For the ceiling, I laid down tongue-&-groove pine boards topped with OSB, which kept the roofing nails from projecting through.  The ridge caps are also copper, with the thought that it would inhibit moss growth.
Then I wrapped the posts in cedar.  I installed a ceiling fan and string lights, and sat back to enjoy the results.
Later I commissioned my neighbor, who is an artist, to create a grilling table for me, made out of old farm equipment that was rusting away out back.  The hibachi grill is stored in a four foot aluminum truck bed box, which is mounted on heavy duty full extension slides underneath the screen house.
All photos were taken by me.
Grill table fabricated from old farm equipment by artist Paul Thornton.