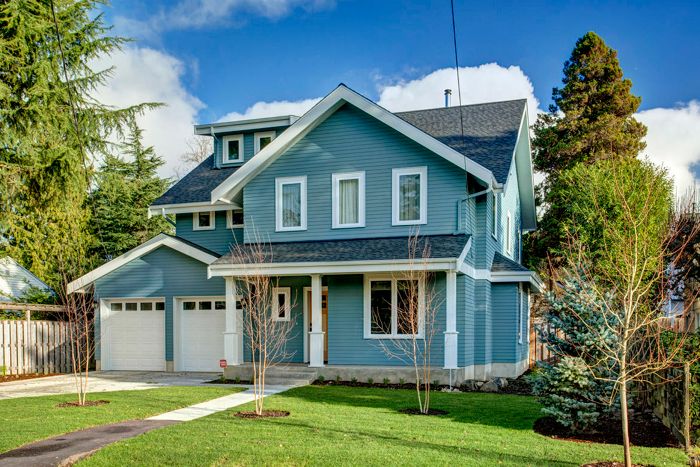 Situated in the City with a large lot surrounded by gardens, this house maximizes square footage to get as much living space as possible in a small footprint while straddling the line between rural and urban. They key to this is opening up the main floor but still dividing it into three "rooms" which are all open to each other and carefully mixing materials. The rooms are divided with simple stock trim used in creative ways to help visually provide interest and division. A small away room on the main floor allows the Owner's collection of books and music to be enjoyed in a quiet environment. Tying the house together, clean white trim helps the home feel bigger and contrasts with stained wood trim in some of the more private rooms to give those spaces a cozier feel. Sealed and heated concrete floors provide a more industrial and urban feel to contrast with the simpler and more traditional detailing.
The exterior has great street presence, and the owners planted birch trees on the front lawn. 
The main living space is open and inviting with plenty of built-in storage space. The fireplace in the center rotates to face whichever room you're in. 
The Dining/Living space is versatile enough to be intimate and offer a space for entertaining. 
The open kitchen has yards of counterspace and the generous island can do double duty for food prep and casual dining. 
On the 2nd floor, a bonus room can double as a sewing space, office and laundry.