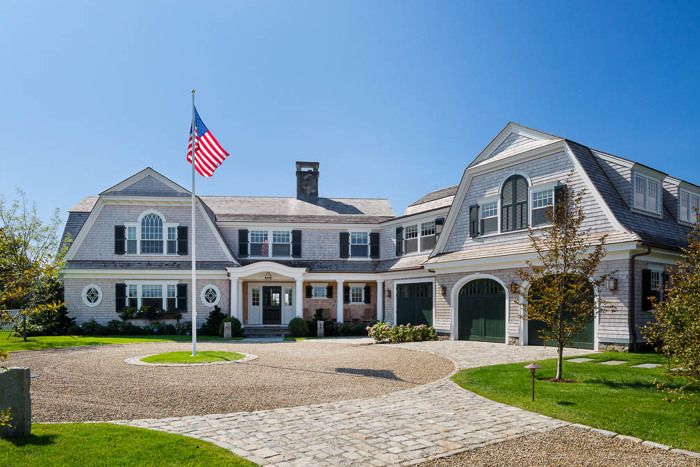 Atlantic Drive is one of five newly constructed homes located between 300 acres of farm and South Beach in Edgartown.  The issue for all five homes was to design an upside-down house; because of the nature of the view over the dune, the primary living space had to be on the second floor. By association rule, there is a 30-foot height restriction, so the challenge was how to create five houses similar in scale and upside-down program yet differ in character.
Originally from Vermont, the client wanted a casual, heavy timber, exposed character and theme incorporated in a beach house environment. We blended the Vermont country house idea with a beach house of sub-size: 6,200 SF, three-car garage, multiple bedrooms and entertaining spaces, and a significant second floor master suite and study finished with beadboard, antique flooring, and timbers.
The client wanted multiple spaces to entertain friends and family and as such, the program included a number of outdoor amenities. The program included a significant covered porch with an outdoor fireplace and an enclosed screened porch off of the family room, both of which step down and out onto a significant pool level.
On the pool level, we incorporated a cabana building-which houses pool equipment, a changing area, and a bathroom-with another secondary outdoor fireplace and gathering area, all of which reinforce the beach environment.
One of the other elements of this property that was approved by the association is a half basketball court that is completely screened from the public view and provides an additional amenity for the clients' children.
The association and abutters were concerned their long view to the sunset in the west would be obscured. In order to avoid this, we built the house in the exact location of the existing 1970's house. We also designed the house on an angle so that from the master suite, the clients can enjoy the ocean view while maintaining privacy from the abutters.