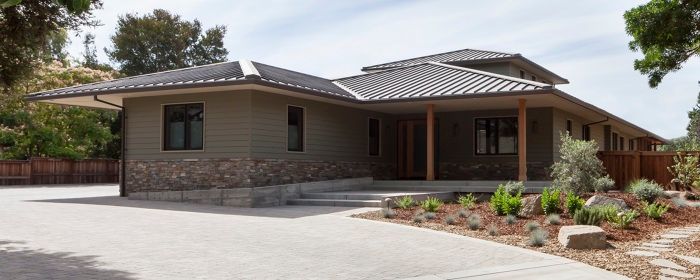 Davis Prairie is a home designed for the long dry heat of central California. Located in one of the flattest parts of the state, surrounded by farmland, this Prairie-style adaptation comfortably fits into the surrounding neighborhood. The owners asked for a home that would be a comfortable destination for extended family gatherings centered around the indoor-outdoor living that the climate allows. The owners also requested attention to energy and water efficiency as very important design parameters.
Some of these energy and water efficiency features are: a conditioned crawl space where the low static pressure HVAC is located; exterior rigid foam wall insulation; 14″ of ceiling insulation; air sealing of the shell for an air infiltration rate was 1.24 ACH50; a 9.6 KW grid tied photovoltaic system, projected to bring the house at or below zero net energy; on-demand hot water recirculation system; all storm water captured on site; swimming pool cover and drought tolerant landscaping and Verde Buffalo grass.
The street view of the house is intentionally understated as the goal was to present a calm and quite impression to the outside world but only hint at the spaciousness inside. The front porch is a welcoming outdoor room with a 9-foot flat ceiling that feels both cozy and open. As soon as one steps inside the front door, the view through the house to the back yard draws you in. The entry hall ceiling rises to a height of 10-feet, which provides a transition to the living room height of 12-feet. The living room is filled with diffuse light from the glazed south wall, which affords views to the pool and landscaping.   Further diffuse sunlight emanates from the glazed ceiling, which is backlit by clerestory windows in the mezzanine area above the living room. The open living room, kitchen and dining areas each have their own boundaries, yet fit seamlessly together. Stepping outside from the living room, the covered patio is protected by an 18-foot south eave. The screened porch is a natural extension of the dining area. Plenty of protective shade abounds. A variety of patio areas surround the pool, which becomes the focus of these outdoor "rooms".  
The house was built by Sean Van Gelder of Van Gelder Construction