Modified Farmhouse Kitchen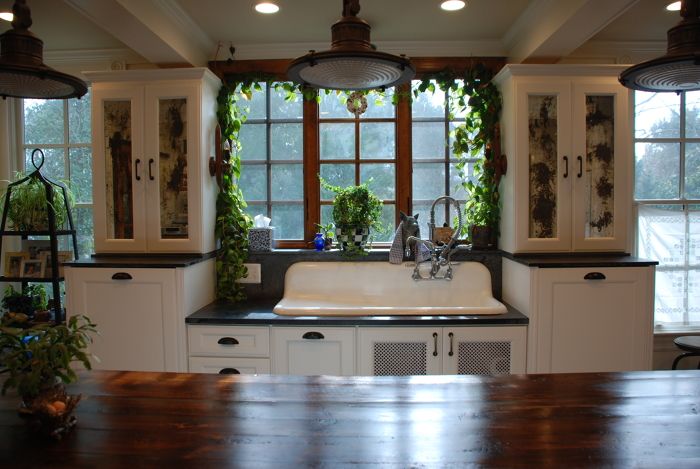 The former galley kitchen in this old 1870s farmhouse was small and dark, extending the south to north width of the house, with only a small window at each "end".  (The north wall abutted the large covered porch.)  There was no pantry and storage was limited.  We solved the storage problem for years like everyone else:  two old dressers and a set of rugged plastic shelving! The adjoining southern exposure dining room, however, was light-filled.
We joined the rooms by taking down the wall to make a larger, brighter kitchen and making the neighboring (east) room the new dining room.  We added a wall on the eastern side of the kitchen to form a small walk-in pantry lined with shallow fixed shelving and a pseudo-butler's pantry as an entry to the dining room from the kitchen. Previously, one had to walk from the foyer through the kitchen to access the den.  We made a small hallway with a trio of small closets (more storage!) along the former north wall of the kitchen.  Now the kitchen openings to the den on the west and to the dining room on the east are aligned.
We have an 8 1/2 foot reclaimed wood topped island which is centered on a sink, two raised dishwashers and big windows (south side) and a cooking alcove (north side).  Along the west wall is a white French door refrigerator freezer bookended by deep drawer, folding door, and regular wall cabinet combinations–giving the appearance of built-in refrigerator cabinet unit.  We added a small bar sink with small Delta Touch faucet in the shallow area to the right of the cooking area.