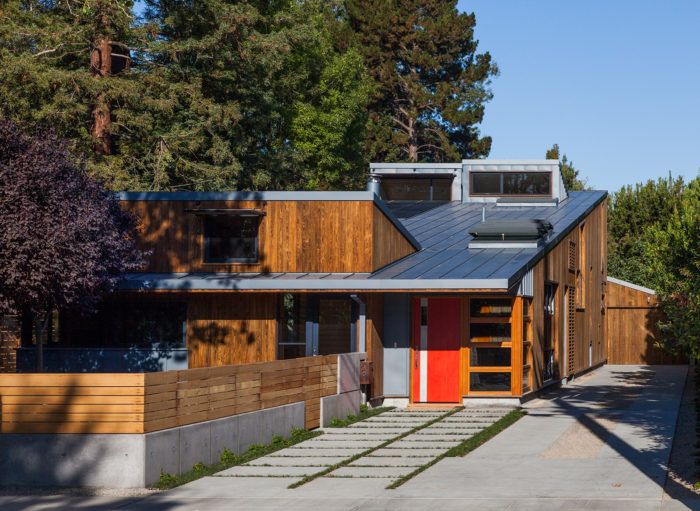 The wedge house was designed to be slid onto the narrow leg of an L-shaped lot, with frontage on two streets, in an established suburban neighborhood in Palo Alto, California. Our clients, who occupied a large house on one leg of the "L," where they had raised a family, wanted to downsize and hired us to design a house on the adjacent leg. In the short term, the landscape design is meant to weave the two houses together and accommodate extended family before the lots are split and our clients move into the wedge house.
Triangular in section, the house is literally a wedge. Metaphorically it is a bridge connecting a series of oppositions: landscape and architecture, light and shade, indoors and outdoors, and the warmth of wood against the coolness of steel and concrete. The natural properties of these materials were explored through contrast as well: smooth vs. rough, hard vs. soft, bright vs. dark, weathered vs. pristine.
One story at the street, the wedge house is the odd man out along a row of imposing, two-story, stucco Spanish-revival homes, punctuated by an occasional Victorian. The functional shape slopes down to the southwest, interrupted by dormers and skylights that admit light deep into the house. The design includes three outdoor rooms that are integral to the experience of the house and are defined by a combination of architectural and landscape elements. The architecture defines planes, setting hard edges that act as foils to the landscape elements; the plantings provide shade, frame views, and create enclosures.
As one moves away from the street, the house is organized from public to private. The "front yard," which would traditionally be given over in suburbia to landscape buffer, is designed to be a social space for casually dining in an herb garden. A low wall and fruit trees supply privacy and shade. An interior courtyard, shaded by a steel trellis, is carved out of the center of the wedge. Large openings in the wall blur the distinction between indoors and out, seamlessly integrating the interior court with the living room and study. At the rear of the site is a decomposed granite workyard and a bocce court, protected from the harsh afternoon sun by a casual bosque of olive trees. Upstairs, a tree-fort-like master bedroom overlooks the central courtyard. Below grade living spaces (which are expressly encouraged by the Palo Alto zoning code) include a sound studio/bedroom, and are illuminated by light wells. The passage to this subterranean space is fully day-lit by a combination of outsized windows and skylights. Glass cylinders set into the polished concrete floor at the entry illuminate the stair to the lower level.