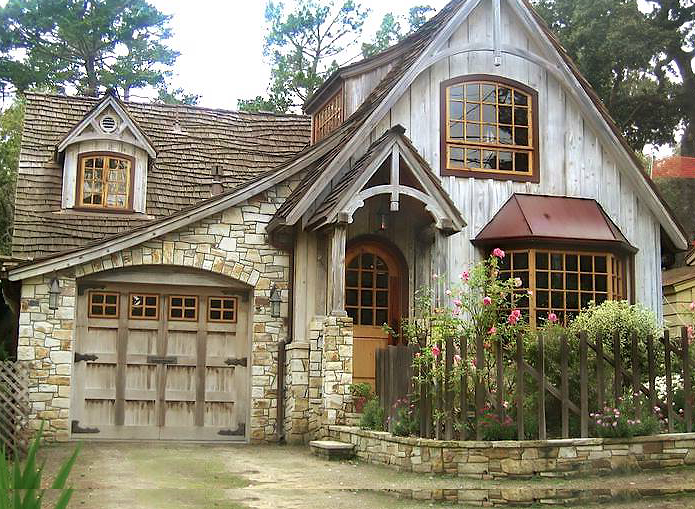 In 1924 Hugh Comstock came to Carmel to visit his sister Catherine and her husband, George Seideneck, both artists and members of the struggling Carmel Art Association. While in Carmel, Hugh met Mayotta Browne, who successfully made and sold rag and felt dolls, called "Otsy-Totsys." Hugh and Mayotta married that year. Buyers from large cities came to place orders for the dolls, which soon filled their house to overflowing. She asked Hugh to build her a cottage to use as a showroom. Hugh was neither a builder nor an architect, but he loved to draw and tinker. He designed and built with Mayotta a whimsical little cottage, Gretel, then Hansel, followed by several others. This home is designed with a 1900's flair and modern amenities.
Designing smaller homes that live big is a true art form. Open rooms with tall beamed ceilings add to the space. Compact does not need to be cramped when you make use of a well designed plan and site lines. Inside on the main floor you will find an ample kitchen, tons of storage and an open vaulted living. The kitchen is full of goodies. Upstairs are three spacious bedrooms and even a large bathroom with a six foot long jacuzzi tub.
The front aged wood exterior is accented with rock, a curved front door, garage door and can lights.
The Living is an open vault design with large beams.
The rustic bath looks more like a spa. It may make you ask: "If this is roughing it, where do I sign up?"
The Kitchen is the heart of any home. The kids love the bar. They eat and play games there often.