Refined Accents Elevate a Budget Kitchen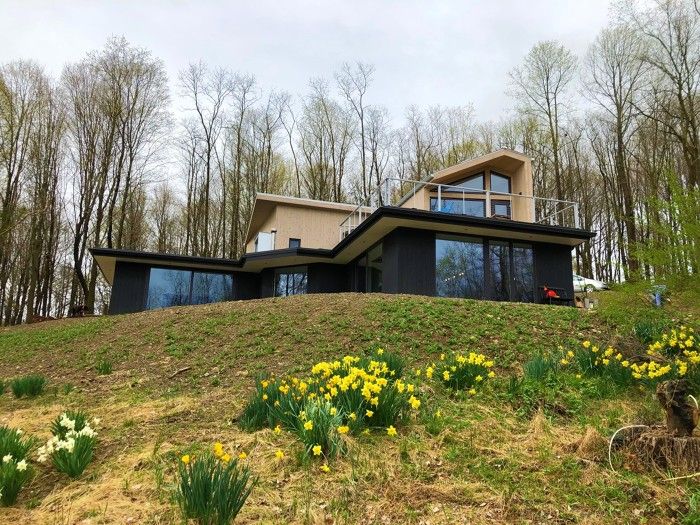 All of the tall elements—refrigerator, double oven, pull-out pantry were gathered on one wall, and the cabinet fronts painted white. The base cabinets for the sink, work counter, and cooktop continued the length of the perpendicular wall, with small appliances housed in the corner where tall and low meet. The owners, in keeping with the DIY tradition of the original house, painted the base cabinets a deep blue that set them apart from the wall of tall white cabinets. Making the wall above the blue base cabinets free of standard uppers lent a gracious feeling to the kitchen/dining room. A beautifully crafted custom box-shelf, made in-house by Quatrefoil Inc., takes center stage above the sink and is now filled with the owners' collection of Japanese pottery. Further down, the hood is masked within a gypsum board surround. Sleek, linear brass pulls were added — mini versions of the high-end brass bar chandelier by Lambert & Fils, over the dining table.
The Caesarstone countertops were selected in a color to mimic the polished concrete floors. The dining table and unmatched chairs overlook the woods through a 12-foot 9-inch wide, triple-glazed lift-slide door, imported from Austria by Cembra. This large opening combined three original windows into one expanse that opens towards the center of the butterfly plan. It is mirrored symmetrically in the bedroom wing, opposite. Perpendicular to the lift-slide is another 12-foot 9-inch wide glass opening, which also combines three original windows, making the kitchen/dining room extremely light-filled and enjoyable.