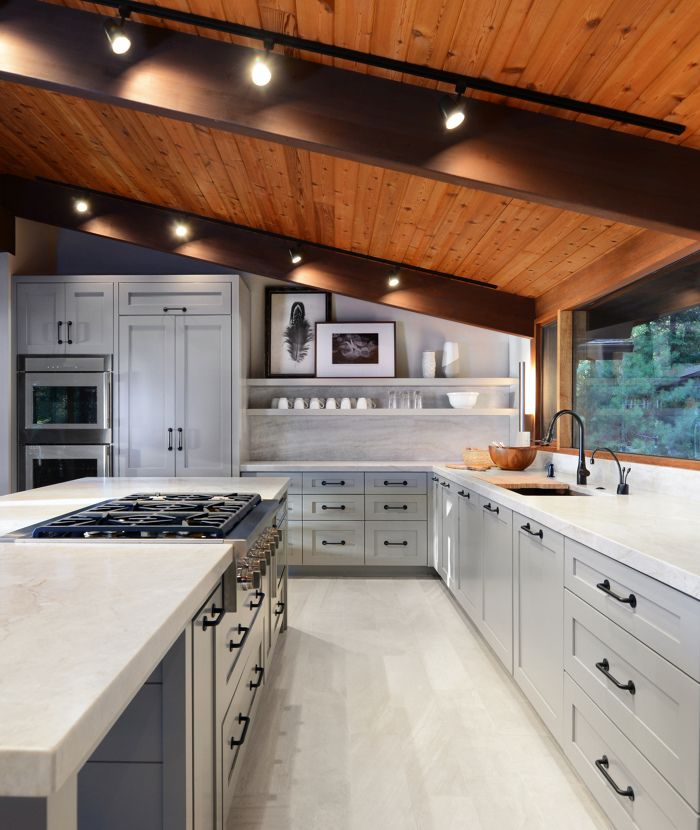 Our first challenge for this project was the location— it is 4.5 hours away from our design studio and subcontractors, which required craftsmen to travel and stay onsite in order to build the project. Another challenge is that it's a beautiful, very unique architect-designed home from the 1980s. It utilizes simple construction methods, which made its roof lines and ceilings distinctive but also very difficult to run electrical and very difficult to light. We had to find creative paths to get wiring across exposed structural beams and wood ceiling cladding, then over to key points where architectural track lighting could be installed. The kitchen had always been a very dark space, which was one of our clients' biggest complaints.
Another beautiful but challenging feature are the windows, which line the entire east and south-facing walls. It's a great connection to the outdoors, but that makes it difficult to place tall appliances and ventilation. It also eliminated the possibility for upper cabinets along the main length of the room. Our clients love to cook for their large family, so the kitchen had to accommodate numerous professional-grade appliances as well as well-organized storage for cooking and entertaining.
The clients' main priority was making the kitchen a social experience. They wanted to be able to cook, entertain, and interact with family and friends all while enjoying a view of the lake. The old kitchen, though dark and dated, was loved in spite of its flaws because it was the social heart of the home. This new kitchen corrects those flaws and looks forward to many more decades of multi-generational memories.
More photos available here: https://amycarman.com/portfolio/lake-island-retreat/